Northrop Grumman Receives $433.5M Contract
Thursday, March 28, 2013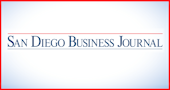 The Defense Department recently said it awarded Northrop Grumman Corp. a contract worth hundreds of millions of dollars, covering logistics support for the U.S. Air Force's Global Hawk unmanned spy aircraft.
The contract is structured to be a cost plus fixed fee deal. Its estimated value is $433.5 million.
Northrop Grumman manages the Global Hawk program out of it Rancho Bernardo office complex, which is its unmanned systems center of excellence. While the sustainment contract will employ people locally, it will also go toward efforts at the unspecified forward bases where these aircraft operate, a Northrop Grumman spokeswoman said.
The deal covers two and a half years — April 2012 through September 2014 — and "ensures no break in coverage to war fighters," said company spokeswoman Gemma Loochkartt.
The U.S. Air Force is currently flying 38 Global Hawks in several configurations. The Block 20, Block 30 and Block 40 models carry different sensor packages.
The Air Force Life Cycle Management Center at Robins Air Force Base, Ga., awarded the contract.
— SDBJ Staff Report