Bill Geppert Elected 2013 President of the Holiday and Poinsettia Bowls
Tuesday, March 26, 2013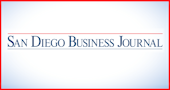 Bill Geppert, the former Cox San Diego executive who held C-level positions with both the San Diego Regional Economic Development Corp. and the San Diego Regional Chamber of Commerce, was elected as the 2013 president of the Holiday Bowl and the San Diego County Credit Union's Poinsettia Bowl, according to the San Diego Bowl Association.
Geppert, who joined the bowl association in 2002 and was appointed to its board of directors in 2004, replaces John Wertz who becomes the SDBA's chairman.
Since 1978, the two postseason college football games have generated a combined $650 million in economic benefits for the region, according to the SDBA.
Geppert is the past president and CEO of the San Diego EDC, as well as past chairman of the chamber of commerce.
Other 2013 officers for the SDBA elected by the board are Vince Mudd, president-elect; Kimberly Layton, secretary; and John Chalker, treasurer.
— SDBJ Staff Report