MARKET: EXPERTS ARE ADVISING CLIENTS TO SHIFT TO STOCKS
Positive Indicators Point to Prolonged Bull Run for Stock Market
Monday, March 25, 2013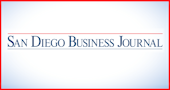 As the stock market continues its upward climb, more investors are moving back into equities, some belatedly, but local financial advisers say that there's still plenty of upside left.
Mark Delfino, chief executive at HoyleCohen in San Diego, says most of his firm's clients are already invested in stocks to some degree, but there's clearly more interest from prospective clients.
They are generally investors who have the bulk of their money in bonds and lower-yielding investments, and are receiving meager returns, especially in comparison to what the stock market has been doing recently.
"We're seeing it more from prospective clients who are sitting in cash and seeing the equity market run and want to get in on it, but they don't know quite what to do," Delfino said.
Last year, the Standard & Poor's 500 index was up 16 percent from the prior year. Through March 15, it's up 9 percent. Over the past four years, the S&P index has regained all the ground it lost starting in 2007, and is nearing the record high it achieved in October 2007.
Delfino says most investors should have part of their portfolio in stocks, and probably a "fairly healthy chunk," especially in light of the eventual rise in interest rates that will hurt bond investments.
'Bonds Won't Do Well'
"Bonds won't do well over the next five to seven years," he said.
To be sure, investing in stocks is riskier than bonds and other cash-based vehicles, but over the long term, stocks have proven to generate higher returns, advisers say.
But they also note that the equity markets are far more volatile and will likely remain so. "We may have one or two corrections of more than 20 percent over the next three years," Delfino said.
Carolyn Taylor, president of Weatherly Asset Management in Del Mar, said she's noticed that more investors are feeling "warm and fuzzy," which is definitely helping to push the market up.
Taylor said Weatherly's assets have been growing in recent years as clients consolidate their investments, stay with the firm longer, and sign on new clients.
The firm, which had about $246 million in assets under management at the end of last year, offers a comprehensive suite of services that includes investments, as well as tax and estate planning services.
Diversification Recommended
Taylor said there's still good opportunities in the stock market particularly in such higher growth industries as health care, high tech and biotech. While the market generally offers good value now, it's imperative that investors diversify their holdings, she said.
In particular, Taylor is putting some clients into real estate vehicles and preferred stock. The dividends on the latter can be double what common stocks yield, she said.
Delfino said his firm is helping his clients mitigate the risk of large market declines by instituting an equity protection program that uses put options. The options are designed to capture most of the upside from a rising market, while keeping the downside risk to less than 20 percent.
Ian Mausner, who runs J.S. Oliver Capital Management in San Diego with about $250 million in assets under management, said many of his clients have been shifting out of cash into equities as the market has rallied for much of the past year and a half. Besides stocks, Mausner recommends other types of higher-risk investments including private equity and venture capital.
Mausner said the recent markets surge is only the beginning of a historic, prolonged run. "Over the next five to 10 years there will be a massive bull market that will make the 1990s pale by comparison," he said.
Not only are stock valuations still reasonable today, the nation is gradually moving toward energy independence, which will result in benefits for a host of industries, Mausner said. More importantly, there's still a tremendous amount of cash that has yet to be invested and as that money flows into equities it will push up the overall market, he said.