FINANCE: FINANCIAL ADVISERS BREAK AWAY FROM THE BIG FIRMS
Gaining Independence
Monday, March 25, 2013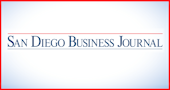 Locally based broker-dealers that provide back office and support services to independent financial advisers are expanding their local operations as more of the advisers break away from big brokerages.
Several local firms say the independent adviser model is resonating with more financial planners who are dissatisfied with working in larger organizations that limit their product options, and take a larger share of the revenue the advisers generate.
"Our target market is the advisers who work at the larger brokerage firms, the Morgan Stanleys, the Merrill Lynches," said Rob Bartenstein, CEO of Washington Wealth Management, based in San Diego and with eight offices nationwide. "The fundamental driver for this process is the entrepreneurial spirit in the heart of every adviser who works in these large firms."
WWM now has 22 advisers in its system but it's picking up advisers every week, and Bartenstein has lofty ambitions.
"We went from about $100 million in assets under management at the end of 2011 to where we are today (nearly $1 billion)," Bartenstein said. "Our goal is grow to about $3 billion by the end of the year."
WWM is a hybrid registered investment adviser or RIA, which means its advisers can charge either commissions or flat fees for their services. The advisers have the option of using the WWM brand to solicit business or their own names.
Open Architecture Model
Independent Financial Group has a similar construct as WWM, providing all the back office support on the investments selected by the advisers, regulatory compliance, marketing and licensing, but allowing the advisers to offer whatever products best suit their clients' needs.
"We have an open architecture model that allows brokers to do what they want (in terms of investment choices for clients) within the confines of the SEC," said Dave Fischer, one of IFG's three owners and its chief marketing officer. "Our advisers can charge commissions or fees, and some brokers do both."
IFG, founded in 2003, has about 500 advisers operating in 265 offices in 36 states. The firm added about 20 advisers last year, and saw its assets under management grow nationally to about $8 billion. The firm has about 100 advisers in San Diego County, and some 250 in California.
Fischer, who formerly worked at LPL Financial, which is among the largest broker-dealers in the country, said thanks to its expanded advisers network and overall stock market uptick, IFG's revenue has steadily increased. Last year, sales hit $76 million, up from $64 million in 2011. That was good enough to put IFG on several fastest growing company lists including those tabulated by Inc. Magazine and InvestmentNews.
The firm's headquarters in Carmel Valley also added 13 people last year to bring the local headcount to 50. Jobs cover operations, compliance, marketing, licensing and recruiting.
Expanded Network
First Allied Securities Inc., another locally based broker-dealer, significantly expanded its network of advisers and assets under management last year when it acquired Florida-based Legend Group. The transaction added some 400 advisers and $6 billion in managed assets to bring the latter sum to nearly $30 billion as of this month, said Bob Holcomb, president of First Allied's wealth management division.
"We now have about 1,400 advisers in 900 offices and are operating in all 50 states," Holcomb said. Within San Diego First Allied reported holding about $6 billion in assets under management.
In an interview last year, First Allied Securities Chairman Joel Marks said he anticipated the Legend acquisition to increase the firm's total revenue to a range of $325 million to $350 million.
Marks said First Allied and many of his competitors are in an expansion mode to boost their profit margins. "You have to get larger or become more of a niche provider," Marks said.
Some wealth managers pride themselves on growing organically rather than by acquisitions. "We've been on a tear recently," said Michael Fenison, founder and chief executive at Pure Financial Advisors. "For us, it's been one client at a time."
Last year, the firm that was founded in 2007 added 338 clients and increased its assets under management to just above $600 million from about $400 million in the prior year. Pure Financial added seven employees to its staff last year, bringing the total to 29, Fenison said.
Fee-Only Model
Pure Financial, like many other wealth management firms, uses a fee-only model to charge for its services. The industry's common rate is 1 percent of the assets managed, but for clients with assets in excess of $2 million, fees are usually discounted to less than 1 percent.
The advantage with the fee-only model is clients aren't getting hit with sales commissions every time they decide to buy or sell an investment. Registered investment advisers are fiduciaries as opposed to brokers who are usually paid from commissions they earn on the products sold.
A fiduciary is legally bound to act in their clients' best interests. The arrangement is often regarded as more fair to clients because it eliminates potential conflicts of interest that can arise with the commission-based service model, said several financial planners.
As fiduciaries, advisers put their clients' best interest first and cannot accept fees related to the investment products sold, said Tim Callan, president of Callan Capital, based in La Jolla and with about $400 million in assets under management.
"In the past five years, the wealth management industry has been gravitating to the independent investment adviser space," said Callan. His firm grew its assets under management by about 40 percent last year due to two factors: several clients sold their businesses, and the value appreciation of most clients' portfolios, Callan said.
Now Hiring
The firm is the process of hiring another certified planner, which would bring his total staff to seven including his two brothers, Trevor and Ryan, Callan said.
Commonwealth Financial Network, which has headquarters offices both here and in Waltham, Mass., outside of Boston, is also expanding its local operations as it picks up more independent planners nationwide, said John Rooney, managing principal.
"We've been growing about 10 percent a year over the past two years, and in San Diego we've expanded our staff from 60 to 90 during that time," Rooney said.
The firm has about 1,450 advisers working in 900 offices nationwide, with most offices having only one or two advisers each, he said. The firm has about $70 billion under management.
"We opened the San Diego office in 2000 with only eight people, and have grown it fairly consistently since then," Rooney said. "Today we've got eight job openings."