DEFENSE: UNMANNED SYSTEMS EFFORTS LAND PROGRAMS IN S.D.
Northrop Consolidations Bring Jobs to Region
Monday, March 18, 2013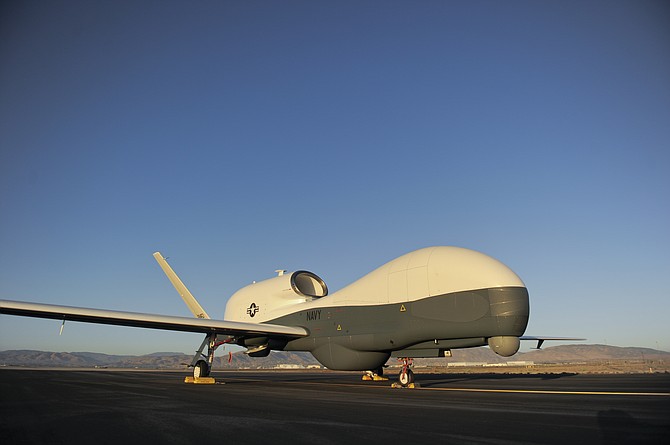 Two Northrop Grumman Corp. aircraft programs are leaving other states and coming to San Diego, and with them, scores if not hundreds of jobs.
The diversified defense contractor, which had $25.2 billion in 2012 sales and is based in suburban Washington, D.C., announced the moves as part of a wider push to consolidate facilities. Northrop Grumman's representatives did not immediately say how many jobs might come to the region.
State Sen. Joel Anderson, whose district includes Rancho Bernardo, estimated the district will gain hundreds of jobs, though the number was not confirmed by the company.
Northrop Grumman has dubbed its Rancho Bernardo facility as its Unmanned Systems Center of Excellence. Earlier this month, the company announced that it plans to move its MQ-4C Triton program from Bethpage, N.Y., a community on Long Island. The Triton is the U.S. Navy version of the Global Hawk high-altitude spy aircraft.
Also coming is the NATO Airborne Ground Surveillance program — another Global Hawk variant. Northrop Grumman is moving the NATO program to San Diego from Melbourne, Fla.
Drone Central
The move further establishes San Diego as a center for unmanned technology, said Sean Barr, vice president of economic development with the San Diego Regional Economic Development Corp. The sector has more than 7,000 people working in it, Barr said. And it's poised to grow, Barr added, noting that unmanned vehicle production is expected to double by the end of the decade.
Several organizations, including the EDC and San Diego Military Advisory Council, are working to get San Diego a national designation for unmanned systems, Barr said.
Northrop Grumman has 2,200 employees at its unmanned systems facility in Rancho Bernardo. The company has a total of 4,000 employees in San Diego County.
CEO Wes Bush, in a statement announcing several program moves among Northrop sites, noted that the firm's government customer needs "increasingly innovative and affordable products, services and solutions."
Analyst Cai von Rumohr of Cowen & Co. said earlier this year that his 2013 forecast for Northrop Grumman reflects a "tough environment." That environment includes, but is not limited to, sequestration, the federal government's across the board spending cuts. "Continuing strong execution" means Northrop Grumman may beat its most optimistic earnings prediction of $7.15 per share, the analyst wrote. The corporation's overall annual revenue is expected to continue its slide, dropping 5 percent from $25.2 billion in 2012 to $24.1 billion in 2013.
Von Rumohr gives the stock a neutral rating. Shares trade on the New York Stock Exchange under the symbol NOC.
The Triton unmanned aircraft, which carries a specialized sensor package, is capable of flying as high as 56,500 feet and staying in the air for 28 hours. It can cover a lot of ocean with a mission radius of 2,000 nautical miles. The aircraft is characterized by a spoon-shaped nose and a long wingspan (130 feet) compared with a short body (48 feet).
Triton is not the only unmanned aircraft program in the news.
$71M Fire Scout Contract
Northrop Grumman said recently that it received a $71 million contract to build six Fire Scout unmanned helicopters. The MQ-8C model is the larger variant of Fire Scout, based on Bell Helicopter's 407 model.
The company said its Navy customer plans to buy 30 Fire Scouts under a rapid development effort. Northrop Grumman said it is under contract to produce 14 Fire Scouts, and that the aircraft are scheduled to deploy as early as next year.
San Diego-based Cubic Corp. is one of the subcontractors on the helicopter project. The unmanned aircraft is meant to fly off Navy ships, including the littoral combat ship. The builder says the Fire Scout can stay in the air for up to 14 hours.
It isn't just the U.S. Navy that is interested in Northrop Grumman's unmanned aircraft. There are signs that the Global Hawk family will be going more global.
Aviation Week recently reported that Australia may be in the market for up to seven MQ-4C Tritons — as well as unmanned craft from General Atomics Aeronautical Systems Inc. of Poway. The unmanned aircraft might be used to patrol large expanses of ocean or to collect electronic intelligence.
On top of that, the publication reported that the U.S. government is allowing Northrop to talk to the government of India about buying its own MQ-4C Tritons.