REAL ESTATE: CHULA VISTA COMPLEX SELLS FOR $90 MILLION
Big Moves Made in Multifamily Properties
Monday, March 11, 2013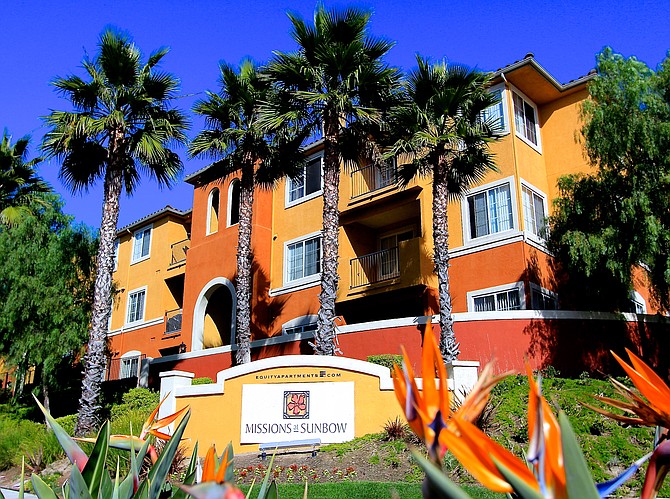 When locally based R&V Management Corp. recently purchased the 336-unit Missions at Sunbow in Chula Vista for $90 million from Equity Residential, it marked the largest single recorded apartment transaction so far this year in San Diego County.
It was also among at least 13 large local apartment properties to change hands in a span of a few days, as major regional and national investors shifted their portfolios and bolstered their holdings in the San Diego region.
Some of the changes stem from the move by Lehman Brothers Holdings Inc. to liquidate the entire apartment portfolio of its Archstone Enterprise LP, selling the bulk — 136 U.S. communities totaling more than 40,000 units — to Equity Residential and AvalonBay Communities Inc., in deals totaling $15.5 billion.
In San Diego County, the deal switched at least four former Archstone communities, totaling 636 apartments, to new ownership. Chicago-based Equity Residential now owns the 120-unit Archstone Encinitas and the 168-unit Archstone Del Mar Heights.
Virginia-based AvalonBay is the new owner of the 168-unit Archstone La Mesa, and the 180-unit Archstone La Jolla Colony in University Towne Center. Both Equity Residential and AvalonBay had significant holdings in San Diego County prior to those deals.
Irvine's Bigger Footprint
Also as a result of the Archstone sell-off, Newport Beach-based Irvine Co. — already the local region's largest office property landlord — has significantly bolstered its San Diego County apartment holdings.
Irvine Co. has acquired full stakes in eight local apartment buildings, totaling 3,000 former Archstone apartments in San Diego, Escondido and Carlsbad, where Irvine Co. previously held partial ownership. The company did not disclose transaction prices, but Irvine Co. spokesman Michael Lyster said Irvine had owned a 90 percent stake in the local properties since 2007.
Irvine Co. now fully owns Harborview in downtown San Diego, Solazzo in La Jolla, Del Rio in Mission Valley, Torrey Hills in Carmel Valley, Westwood in University Towne Center, Emerald Glen in Escondido, and Pacific View and Seascape in Carlsbad.
Irvine officials said the company's apartment communities division has hired about 75 former Archstone property management and maintenance employees to work at the San Diego County apartments, and is developing a reinvestment plan to include future renovations.
To finance its Archstone acquisitions, Equity Residential sold off some of its other existing U.S. holdings, including the Chula Vista property purchased by R&V Management.
An R&V spokesman referred questions to the company's investment executives, who could not be reached. The privately held company, with headquarters in Mission Valley, has been in business since 1979 but generally keeps a low media profile, according to the spokesman.
Before its $90 million Chula Vista purchase, R&V Management owned or managed 40 other apartment and senior housing communities in the San Diego region, along with several retail properties. Its local multifamily transactions during the past 18 months included its $25.5 million purchase of a 143-unit condominium development in La Mesa; and its $44.3 million purchase of a 240-apartment community in Vista.
Strong Chula Vista Market
"At $90 million, the sale price of Missions at Sunbow reflects the strength and continued growth of the Chula Vista and South San Diego multifamily market," said John Chu, executive director in the San Diego office of Cushman & Wakefield, which brokered the transaction.
Jim Neil, senior vice president in the San Diego office of brokerage firm CBRE, said the string of big-ticket transactions reflects the region's longtime desirability as an apartment investment market. The region has one of the nation's tightest vacancy rates at around 5 percent, with some submarkets even lower, as demand rises and new supply is slow to arrive due to limited land availability and other building constraints.
"Among the national investors, San Diego has been known for a long time as a very stable, very attractive market," Neil said. "Most of the time there are more investors out there than there are owners looking to sell."
Apartment communities of fewer than 100 units generally attract local investors, while those over 100 units often grab the attention of large national and regional buyers. Local brokers note that properties frequently garner 20 or more bidders when they go up for sale, and current fundamentals are likely to stay in place as long as interest rates remain low and investment capital stays available.