Sempra Completes Sale of Power Plant Block
Monday, March 4, 2013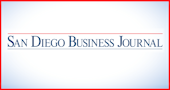 Sempra U.S. Gas & Power said it completed the sale of a 625-megawatt block of its 1,250-megawatt Mesquite Power plant in Arizona to the Salt River Project Agricultural Improvement and Power District for $371 million.
Under the agreement with the unit of San Diego-based Sempra Energy, Salt River acquires full ownership of the 625-megawatt power block and 50 percent interest in plant facilities. Sempra U.S. Gas & Power retains ownership of the power plant's remaining 625-megawatt power block and a half interest in the plant.
Salt River Project supplies electricity to about 950,000 customers and is one of Arizona's largest utilities. As part of the transaction, SRP also becomes the operator of the Mesquite Power facility, USG&P said.
USG&P operates solar, wind and natural gas power plants that generate enough electricity for nearly 1 million homes, along with natural gas storage, pipelines and distribution utilities.
— SDBJ Staff Report