BUILDING: LEADERS SEE OPPORTUNITY TO CREATE AEROTROPOLIS AT GILLESPIE
East County Wants to Chart a Flight Path for Commerce
Monday, March 4, 2013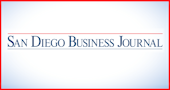 The East County business community has the world at its doorstep.
The valley where the city of El Cajon meets Santee is a nexus of three freeways and an airport. With those assets, El Cajon's Gillespie Field could increasingly shape business and development for several miles outside of its perimeter fence.
That's the hope of people such as Jo Marie Diamond, president and CEO of the El Cajon-based East County Economic Development Council.
At their best, airports can be economic engines, crucial links to other economies. That's the concept University of North Carolina professor John Kasarda describes in his book "Aerotropolis: The Way We'll Live Next."
Kasarda argues airports are the new economic hubs, just as ports were in the ancient world.
The aerotropolis concept has struck a chord with people such as Diamond, who are working to make this vision of transportation hub and accompanying development a reality.
Progress is slow, and it builds on the foundation of smaller projects.
One of the cornerstones is an organized effort to plan the aerotropolis.
Federal Help?
Two agencies are asking the federal government for financial help, and county supervisors recently weighed in with their support.
"This planning project should help identify those industry sectors that would benefit most from the aerotropolis development," said a report to supervisors.
The report continued that opportunities exist "in manufacturing, telecommunications and logistics, hotels, entertainment complexes, exhibition and conference centers, retail outlets and restaurants, offices for business people who travel frequently by air or engage in global commerce, clusters of business and industrial parks, wholesale merchandise marts and distribution centers, national security research and development, and foreign trade."
The other cornerstones for the local aerotropolis are development projects.
Santee city leaders are working to redevelop the length of Prospect Avenue from Cuyamaca Street to Magnolia Avenue. The 150-acre business area abuts the northern fence of Gillespie Field.
Santee plans to bury power lines, install sidewalks, plant landscaping and make other improvements, said Pedro Orso-Delgado, deputy city manager. The hope, he said, is that will act as a catalyst for development or redevelopment.
The nearby freeways — state Routes 52, 67 and 125 — flow into the interstate highway system, meaning freight that moves into Gillespie could soon be on the way to destinations via Interstates 8 and 15, not to mention 5 and 805, said Orso-Delgado.
The airport-freeway link would be ideal for moving time-sensitive freight, Orso-Delgado said. With state Route 52, he added, the link could speed biotechnology products from Torrey Pines Mesa to market.
Jeff Trevaskis, co-owner of the Manzanita Brewing Co. on Prospect Avenue, said he plans to do electrical and plumbing work when the streets are dug up. Trevaskis wouldn't venture a guess on what may become of the aerotropolis. For the near term, he said, he expects to see continued business from groups of aviation enthusiasts who frequent Gillespie Field.
Trevaskis said he has heard talk that a hotel might be in the works for the area.
Though she would not give details, Diamond said an entity is investigating whether to put a "business class" hotel with meeting rooms and a conference center in the El Cajon-La Mesa-Santee area.
Another neighborhood in transition is the land that was formerly home to the Cajon Speedway oval. The 70-acre site — bounded by Joe Crosson Drive and Airport Drive, southeast of the spot where the Gillespie Field runways cross — has been dubbed the Cajon Air Center. County officials hope to redevelop the site, installing some 15 acres of taxiways and other public infrastructure. That that would serve 55 acres of private development centered on aviation uses.
Private construction on aviation and hangar developments could begin by June 2016, according a recently updated schedule on the county airports website. The schedule was posted with a caveat, noting that federal funding constraints might affect those dates.
The same schedule calls for the county to request proposals for aviation and hangar development in May 2014, and set a November 2014 deadline for proposals.
The schedule calls for the county to select its developers in September 2015, and for lessees to get building permits and other entitlements in 2015 and 2016.
Mike Dufford, a pilot who is president of Santee-based Altech Machining Inc., said he had not heard of the aerotropolis concept, but he would expect development on the 70 acres to spur the economy. People would eat and buy fuel in the El Cajon area, he said. What's more, he said pilots based at other airports might decide they'd like to move to East County.
One should not assume that aerotropolis-related development will surround the airport in a perfect circle, like an inner tube around a swimmer.
Extending Its Reach
Development of the aerotropolis concept could reach much farther in spots, Diamond said. For example, it could extend northeast into Lakeside. "I mention Lakeside because its industrial area is not maximized," she said.
Kasarda, the university professor who has studied the aerotropolis phenomenon, was scheduled to make a quick visit to San Diego last week to discuss the project with officials, Diamond said.
Two years ago, Kasarda told the Business Journal that San Diego's proximity to Mexico makes it an "excellent candidate" for an aerotropolis.
To study the matter, two agencies — the East County Economic Development Council and the South County Economic Development Council — are jointly applying for grant funds from the Economic Development Administration of the U.S. Commerce Department.
Since federal officials ask whether local government supports the move, county supervisors recently voted to give that support.
The two regional economic development councils "believe that this concept has the capacity to support and advance the local economy in a manner that would help to establish San Diego County as a progressive leader on the local, national and global stages," said a summary presented to supervisors.
The result will have applications throughout the region, said Cindy Gompper-Graves, CEO of the South County EDC. She noted the study could be a "template" to consider economic development around other airports in San Diego County.