TRAVEL: EIGHT AIRPORTS HANDLE BIG AMOUNT OF TRAFFIC
County Airports Are One of Region's Economic Engines
Monday, March 4, 2013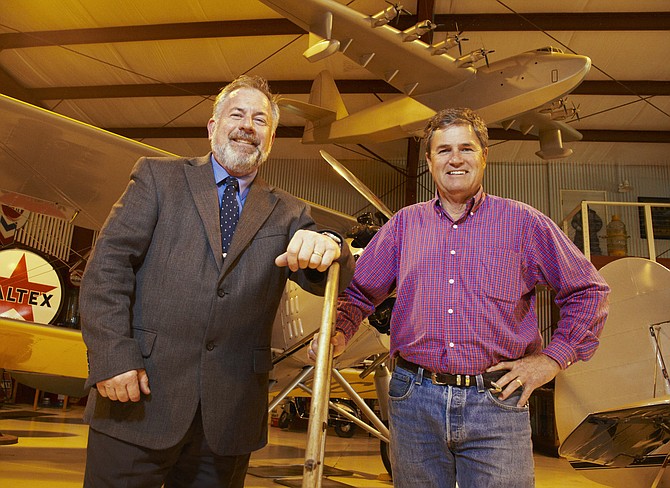 San Diego is an aviator's paradise, what with multiple airfields capable of handling the largest to the smallest aircraft, and generating hundreds of millions, if not billions of dollars, each year in economic activity.
It's a statistic that doesn't even include the massive regional military airports operated by the U.S. Navy and the Marines.
Consider El Cajon's bustling Gillespie Field, which generates $400 million in economic benefits in East County.
Though activity has declined recently — the number of planes parked at the former World War II military base has decreased to 700 from 900 due to the recession — the 780-acre facility remains a major dollar-producing engine for the region.
Gillespie accounts for as many as 3,000 direct jobs and 6,000 indirect jobs, and has proven to be a magnet for such businesses as pilot schools and repair shops, according to a 1-year-old survey paid for by the County of San Diego airport administration.
Such is the responsibility of the airport administration within the Department of Public Works, which operates eight fields countywide, ranging in size from Gillespie to McClelland-Palomar in Carlsbad, to a number of smaller fields, such as Borrego Valley in the desert near Borrego Springs and Ramona in the central county.
(The city of San Diego operates two airports, Brown Field near the U.S.-Mexico border in Chula Vista and Montgomery Field in Kearny Mesa, while the city of Oceanside also operates its own municipal field.)
550,000 Takeoffs
It's a complex task.
The county's airports experienced more than 550,000 takeoffs and landings last year compared to the 200,000 takeoffs and landings at Lindbergh Field in San Diego, which is managed by an autonomous regional airport authority.
Peter Drinkwater, who directs the county's airport operations, said that that one statistic alone points to the complexity of running an eight airport system with 11 runways.
"Lindbergh is the center of gravity for San Diego, as far as it being a major destination for arriving and departing passengers," said Drinkwater. "But the county airports are overlooked; we operate 11 runways with 1,700 based airplanes."
"We have the ability to serve the full spectrum and range of aircraft and operations that support the communities in San Diego County," he said. "We pretty well cover the whole gamut of things."
Eleven Runways
For example, Drinkwater noted that the eight airports encompass 3,000 acres of land protected by 15 miles of security fencing, plus all of the attendant lighting, roads and parking lots, not to mention all of the buildings and facilities.
"We operate all of the foundational systems needed to run all these airports," he said. "And we operate across 11 runways, while Lindbergh has just one."
Like Lindbergh, the larger airports such as Gillespie and Palomar offer commercial flights, though such service is limited, much of it provided by charter airlines.
It's a topic that has been on the radar screen recently as fledgling startup Carlsbad-based California Pacific Airlines struggles to launch service throughout California and the Southwest from Palomar.
The FAA has delayed those efforts, much to the frustration of all involved.
"It's a big deal to get an airline off and running," he said. "It's one thing to add routes if you are an established airline, but it is another to add the routes while trying to build the airline."
Integrated System
"But we're facility operators, not an airline," he said, adding that it's the responsibility of his office to provide the facilities, such as the runway, as well as all of the ancillary equipment to meet the needs of those who use the runways.
Drinkwater said he and his staff are working to closely follow the FAA's strategic goals for today and the future — to ensure that smaller airports, and secondary commercial airports, serve their communities in the decades ahead.
"The FAA sees a need for an integrated system," he added. "And this has been a big priority for us."
The airports need to remain pretty much self-sustaining as he readies for the future; his annual operating budget is mostly funded through fees and services charged at the airports, plus fuel sales tax monies redistributed from Sacramento and monies from leases and other sources.
Development of land around the airports also helps provide sources of funds.
At Palomar, for example, construction is proceeding on a Lowe's Home Improvement Center that will anchor a 180,000-square-foot shopping mall on 16 acres of land owned by the airport.
The mall will open in late summer.
Drones for Civilians?
At Gillespie, the county is going to transfer 70 acres of light industry properties into a flight service center over the next few years.
The administration's annual operating budget is $34 million, while about $10 million a year is spent for new projects and other improvements.
Looking ahead, Drinkwater sees big changes are coming to general aviation, as flying navigates through the early years of its second century and begins to radically redefine itself.
He points to the coming deployment of UAVs, or drones, for civilian use, plus the arrival of space-age aircraft built with composite materials and featuring smaller, more powerful engines, which will have the similar cruising ranges of many of today's big commercial aircraft.
The new planes, which also feature advanced avionics and navigation aids, such as synthetic vision projected on a heads up display, will help transform the look and appearance of the county's airports.
"Since flying was invented by the Wright brothers the technology has leap-frogged ahead," he added. "Twenty years ago no one envisioned that you could climb on a corporate aircraft at Gillespie, and make it all the way to Europe or the East Coast. Now we have airplanes coming on line that are going to fly at Mach 0.88, or about 650 mph, and they're going to have seven or eight hours of cruise or longer … nine and 10 hours."
Technological Advances
They will also feature onboard technology that will replace the ground-based systems used for navigation, such as radar and navigation.
These new aircraft will talk to each other and monitor their own airspace, and eliminate the need to buy and maintain ground-based technology.
Furthermore, the next-generation airplanes will arrive slowly, over the next five to 10 years, but they will arrive, he said, and the county's airports need to prepare for the changes they bring.
"You're going to see unmanned vehicles assigned certain flight levels and airspace," he said. "They're changing the way secondary airports like Gillespie, Palomar and Ramona and the other airports that we operate can be used."
"Just as aviation emerged in the early years, it's starting to change again," he said.
Mike Doerr, president and CEO of Air2Air Corp., a 5-year-old private air charter service with three aircraft based at Palomar, said the county "has done a pretty good job of maintaining the airport," with one recent exception.
The county repaved the runway two years ago in nine weeks by closing the field on alternate weekends, which Doerr said he believes hurt many of the operators at the airport, including a restaurant and at least one pilot school.
"I thought it could have been done in a week and a half," he said. "Otherwise, they do a pretty good job of running the airport."
Joe Graham, a former commercial pilot who now serves as an aviation consultant and pilot instructor at Gillespie Field, said that the county's operations are "just terrific."
"I have nothing but good things to say about them," said Graham. "It's the airport of choice for many owners of corporate aircraft and for historic planes, such as the military fighters based at the field."
"Operations are highly effective, and the taxi ways and runways are always clean of debris," he added.
He noted that Drinkwater and his staff jumped into action in June 25 during an annual air show when a plane's gear collapsed on landing, and the damaged craft had to be cleared quickly, but safely.
"Peter and his team jumped into action," said Graham. "They had the runway open within an hour and a half. And the show went on."