American Airlines to Debut Direct Local Flights to Miami
Monday, March 4, 2013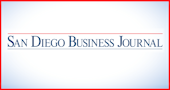 American Airlines will begin nonstop daily service between San Diego and Miami on June 12, marking the first direct flights to that city from San Diego International Airport in 20 years.
The flights will be on a Boeing 737-800 aircraft with 150 seats, according to a statement from the San Diego County Regional Airport Authority, which oversees San Diego International.
American Airlines offered the service briefly from 1992 to 1993, and the new flights will be the only direct service between the two cities offered locally. Miami is currently the largest U.S. market without direct service from San Diego, said Thella F. Bowens, president and CEO of the airport authority.
Flight 1065 will leave Miami International Airport at 6:50 p.m. Eastern time, arriving in San Diego at 8:55 p.m. local time. Flight 1042 will leave San Diego at 9:45 p.m. local time, arriving the following day in Miami at 5:40 a.m.
When the new service starts, Dallas-based American Airlines, part of AMR Corp., will be offering a total of 25 daily flights at San Diego International, through American and American Eagle.
— SDBJ Staff Report