Arena Pharmaceuticals Inc. Applies for Canadian Regulatory Approval for Belviq
Friday, June 28, 2013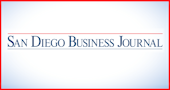 San Diego-based Arena Pharmaceuticals Inc. announced that it has applied for Canadian regulatory approval for its anti-obesity drug, Belviq.
The application was submitted by Arena's partner in marketing and commercialization, Japanese drug maker Eisai Inc., and its Canadian subsidiary Eisai Ltd., triggering a $500,000 milestone payment to Arena.
"Approximately 60 percent of Canadians are overweight or obese, but there are limited treatment options available in Canada beyond diet and exercise," Jack Lief, Arena's president and CEO, said in a statement. "With this New Drug Submission for Belviq, we hope to provide physicians with a new tool to help motivated patients manage their weight."
Belviq just hit the U.S. market earlier this month, almost a year after its U.S. Food and Drug Administration approval. Shares for the $1.77 billion market cap company closed at $8.12 on June 26.
— SDBJ Staff Report