Local Firm Acquires Carlsbad Office Property for $10.3M
Thursday, June 27, 2013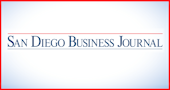 Commercial property investment firm Cruzan Monroe of Del Mar has purchased the Pacific View Plaza office building in Carlsbad for $10.3 million, according to a statement from brokerage firm CBRE, which represented the buyer and seller, a real estate investment trust.
According to CoStar Group and public data, the seller is BOI Carlsbad LLC.
CBRE arranged acquisition financing with a loan of $6.6 million, through its capital markets division, and will also take over marketing and leasing for the building, located at 5973 Avenida Encinas, near Interstate 5.
The three-story, 51,695-square-foot building was completed in 1986 on approximately 2 acres. It was 88.3 percent leased at the time of sale, according to CBRE.
Cruzan Monroe currently owns and operates 10 buildings in San Diego County, totaling approximately 1 million square feet.
— SDBJ Staff Report