BIOTECHNOLOGY COLUMN
Ambrx Partners With Chinese Firm in a Co-Development Deal
Monday, June 24, 2013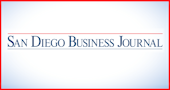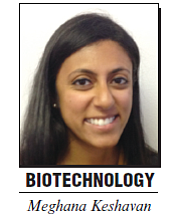 Pharma partnering deals are money, as evidenced by San Diego-based Ambrx Inc.'s recent bevy of licensing deals that could ultimately help the company bring in almost $1 billion.
But the company has recently announced a fairly unique development deal, in an attempt to tap the Chinese market for cancer drugs — and their thirst for developing medically innovative products, said Lawson Macartney, chief executive of Ambrx.
Ambrx and Shanghai-based Zhejiang Medicine Co. Ltd. announced they have formed a collaboration to develop and commercialize ARX-788, Ambrx's most advanced internally developed drug that targets a form of breast cancer.
There's a couple of different dimensions to the deal, Macartney said.
"The Chinese market is obviously a huge growing market, and there's a burgeoning population of people in China who are prepared and have access to highly innovative medicine," he said. "This is a trend that many companies are trying to get ahead of the wave, and this partnership gives us that opportunity."
The privately held Ambrx was founded in 2003, based on the findings from Scripps Research Institute's Peter Schultz. The company's work is based on a technology that uses what are called antibody drug conjugates. It uses microscopic proteins called antibodies to deliver toxins that ultimately kill tumors or specific cancerous cells.
Since inception it's received about $106 in venture funding, and has secured several deals that bring cash into the company from companies like Bristol-Myers Squibb, Astellas Pharma Inc., Merck & Co. Inc. and others. After tallying the various deals' upfront and potential milestone payments, the company could see up to a billion dollars in cash flow over the next few years.
Macartney said he couldn't comment on the financial specifics of this most recent developmental partnership, but that the broad structure is that Zhejiang has exclusive rights to the molecule in the China market, and Ambrx has rights to the rest of the world. The two companies will share royalty and milestone payments.
Zhejiang will manufacture the product and conduct clinical trials through Chinese contract research organization WuXi PharmaTech Inc. Under the direction of an Ambrx-controlled joint development committee, Zhejiang will build its own manufacturing plant overseas.
"It's a co-development win-win approach," Macartney said.
…
In a similar easterly move, Carlsbad-based Verdezyne Inc. will work with Malaysian Biotechnology Corp. to develop its first biochemical production plant in the Asian Pacific region.
It already runs a similar plant in Carlsbad, producing an acid that's a key component of nylon, but this is its first international production venture.
The company creates renewable nylon fibers out of vegetable oil-derived feedstocks, working with Malaysia's palm oil producers to supply the needed crops.
"We are taking a very bold move in entering uncharted territories," E. William Radany, president and chief executive of Verdezyne, said in a statement. "Nevertheless, Malaysia's position as one of the largest palm oil producers and its strong drive in the development of the biochemical sector has made it an interesting location to catapult into the world's largest chemical market, Asia."
…
San Diego-based Santarus Inc. announced that the U.S. Food and Drug Administration has accepted the marketing application for its drug, Ruconest.
The FDA will complete its review by next April. Santarus applied for market approval with its partner company, Pharming Group NV. Santarus licensed certain exclusive rights from Pharming to commercialize Ruconest in North America. Under the terms of the license agreement, Santarus will pay $5 million to Pharming thanks to FDA application acceptance.
Ruconest treats hereditary angioedema, which is a rapid, dangerous swelling of the skin at random.
…
Shares of San Diego-based biotech MediciNova Inc. have shot up 31 percent following the announcement that early trials of its drug for treating methamphetamine addiction showed positive results.
Shares rose from $2.57 to $3.37 in the course of the day following the announcement. MediciNova, founded in 2000, has a market capitalization of $66.27 million.
The company is working with scientists at UCLA, studying a compound called MN-166's role in possibly treating methamphetamine abuse.
MediciNova licensed the drug technology from Japanese drugmaker Kyorin Pharmaceutical Co. Ltd. in 2000. The compound has been marketed there since 1989 for asthma treatment — but never in America.
…
San Diego-based Conatus Pharmaceuticals Inc. has proposed an initial public offering planning to raise as much as $69 million, according to the firm's registration statement with the U.S. Securities and Exchange Commission.
Conatus is developing drugs to treat chronic liver disease. Its lead drug, called Emricasan, is an oral drug that reduces the rate of liver inflammation and cell death.
Conatus was founded by the executives of San Diego-based Idun Pharmaceuticals Inc. in 2005, after Idun was sold to Pfizer Inc. for a reported $200 million. It purchased an Idun subsidiary from Pfizer and acquired the rights to Emricasan in 2010.
Stifel Financial Corp. and Piper Jaffray & Co. are acting as joint book-running managers for the Conatus offering. JMP Securities LLC and SunTrust Robinson Humphrey Inc. are acting as co-lead managers.
Send any news about locally based health care organizations, biotech and clean-tech to Meghana Keshavan at
mkeshavan@sdbj.com. She can be reached at 858-277-6359.