Mast Therapeutics Announces Public Offering of 50 Million Units
Wednesday, June 19, 2013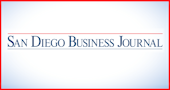 San Diego's Mast Therapeutics Inc. recently announced it expects to receive net proceeds of about $23 million from a new underwritten public offering.
It is offering 50 million units, priced at $0.50 apiece.
The company said it plans to use the funds for its phase 3 clinical study of a drug called MST-188 for treating sickle cell anemia.
The $20.5 million market cap company was trading at $0.44 at market close on June 18.
— SDBJ Staff Report