Irvine Co. Is State's Largest Owner-Operator of LEED Buildings
Wednesday, June 19, 2013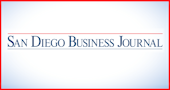 The Irvine Co., San Diego County's biggest holder of office properties, has become California's largest owner-operator of office workplaces certified under the U.S. Green Building Council's Leadership in Energy and Environmental Design (LEED) program.
Newport Beach- based Irvine Co. owns and operates more than 50 LEED-certified properties spanning nearly 15 million square feet in Orange, San Diego and Los Angeles counties. A company statement said Irvine Co. became the largest LEED space provider with the recent certification of a large number of properties in the LEED Volume Program, which streamlines the certification process for multiple buildings of a similar type.
Irvine Co. owns approximately 7 million square feet of office space in San Diego County. Its LEED-certified buildings include 10 office high-rises in University Towne Center, six in downtown San Diego, and two in Mission Valley.
The company's certifications are in LEED's "Existing Buildings: Operations and Maintenance" category, which scores workplaces on water and energy efficiency, materials and resource management, indoor environmental practices, site management and related criteria.
— SDBJ Staff Report