Entrepreneurs Can Get Competitive at Local Events This Weekend
Wednesday, June 19, 2013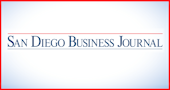 Interactive Day San Diego, scheduled June 21, is a one-day digital marketing conference that will feature a takeoff on the popular TV show "Shark Tank," in which participants make a three-minute pitch to a panel of judges.
Twelve finalists from a group of 50 applicants were selected for the competition. They will be narrowed to two, and the winner determined by a vote of the audience, said IDSD, the organization that puts on similar business conferences on the West Coast.
The winning business receives $5,000, and all participants will get a chance to have one-on-one meetings with potential investors.
Among the selected competitors are Blurtopia, Curvo Labs, Tryspree, Dealstruck, Sprinklebit, SOCI, Find Me Gluten Free, Citybot, Taphunter, and Yapert.
The event that runs from 8 a.m. to 5 p.m. at the Hilton San Diego Bayfront is sponsored by the San Diego Ad Club, Procopio, Launch Pad, Silicon Valley Bank, and Cooley.
Startup Weekend San Diego scheduled for June 21 to 23 at Nokia's Rancho Bernardo headquarters is apparently targeting the same crowd but on a more involved level.
Tim Ryan, the event's lead organizer, said the group's mission is to inspire local entrepreneurs and serve as a networking conduit for aspiring startup folks, high tech executives and others in the field.
About 100 attendees are expected at this event, Ryan said.
This event begins with an open-mic, 60-second pitch aimed at dividing the attendees into teams that will develop a new product over a 54-hour period. On Sunday, teams demonstrate their prototype products and get feedback from a panel of experts, who will award prizes to the best ideas, Startup Weekend said.
The prizes include co-working space and mentoring program memberships, and are valued at more than $1,000 each, the group said.
Startup Weekend, in its seventh year, has a network of more than 100,000 alumni, more than 100 trained facilitators in more than 100 countries, and is supported by the Kauffman Foundation, Gates Foundation, Google for Entrepreneurs, and Microsoft BizSpark, among others, the organization said.
— SDBJ Staff Report