BIOTECHNOLOGY COLUMN
Illumina Campus Is Bigger and Better as Part of Firm's Growth Plan
Monday, June 17, 2013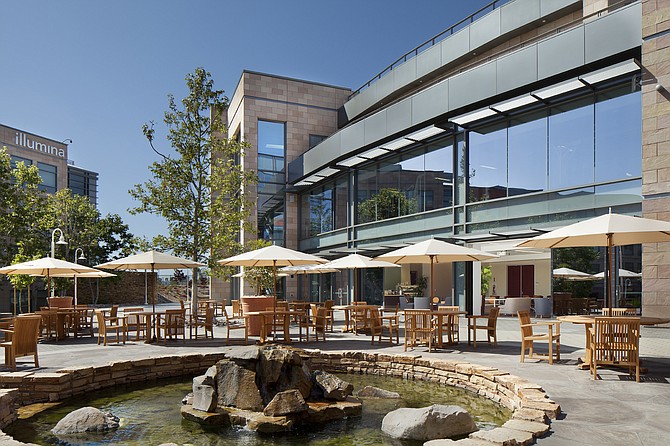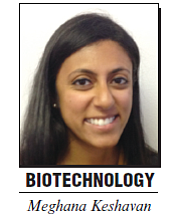 Right on the edge of the Interstate 805 is the latest addition to the sprawling Illumina Inc. campus: a spanking-new athletic complex and corporate amphitheater that seats 1,750.
The biotech giant's multimillion dollar Grecian dugout and adjacent luxe amenities — full-service gym, soccer, volleyball and basketball courts, kale smoothie-hawking juice bar — is part of a critical growth plan for the San Diego-based Illumina, said CEO Jay Flatley.
Illumina plans to hire 500 by the end of the year, Flatley said. About half of those employees will be in San Diego.
"These are high-paying, high-value jobs," he said.
And the complex was built to keep employees healthy and happy, he said. It's also to attract and retain talent — of key importance to the company, a world leader in the competitive field of developing DNA sequencing equipment.
"This campus as it is today will support our immediate growth as well as our long-term plans at least for the next five to seven years," Flatley said, in his opening remarks at the complex's ribbon-cutting ceremony.
The 497,000-square-foot headquarters houses seven buildings and has room to spare. The expansive property, developed by Pasadena-based Alexandria Real Estate Equities Inc., has an additional 393,000 square feet in which to grow.
The company employs about 1,300 in San Diego, and has seen tremendous growth in the past few years as the demand for DNA and RNA sequencing equipment has boomed. Indeed, it grew from 25 employees when Flatley joined in 1999 to 2,700 around the world today, he said.

"Today, about 90 percent of world's DNA sequencing is done off of our platforms," Flatley said.
The publicly traded company last year reported more than $1.1 billion in sales — a 9 percent increase from the year previous.
It has a market cap of $8.4 billion, with stock hovering around $68 per share.
Illumina is one of the key contenders in the race to reduce the cost of sequencing the entire human genome. A main rival is San Diego's Life Technologies Corp., which will soon be absorbed by Waltham, Mass.-based ThermoFisher Scientific.
"In fact, with the pending acquisition of Life Technologies, we think we're going to be the highest valued life sciences company in San Diego," Flatley said.
• • •
San Diego-based genetic analysis company Sequenom Inc. announced that its subsidiary, the Sequenom Center for Molecular Medicine, has built another laboratory in North Carolina.
The new lab in Raleigh-Durham is currently processing patient samples with Sequenom's MaterniT21 PLUS tests. It said it can process 100,000 tests per year, increasing the company's total capacity to 300,000 test samples per year.
The MaterniT21 prenatal test evaluates whether a fetus has Down syndrome or other chromosomal abnormalities as early as 10 weeks of pregnancy.
"We are excited about the opening in North Carolina of our third U.S.-based laboratory location," Sequenom President and Chief Operating Officer William Welch said in a statement. "Our investment in establishing this new presence on the East coast will allow us to better meet the needs of health care providers by providing critical additional capacity and geographic backup needed to address the rapidly growing adoption of our testing services."
• • •
Carlsbad-based Isis Pharmaceuticals Inc. announced it received two milestone payments totaling $8 million for drugs in its pipeline.
British drug maker AstraZeneca Plc paid Isis $6 million in cancer drug development partnership, and Vancouver-based partner Xenon Pharmaceuticals Inc. paid $2 million to acquire exclusive licensing rights for an Isis drug.
The drugs are based on Isis' proprietary "antisense" therapy platform, which uses RNA to deactivate faulty, disease-causing proteins.
"A key component of our business strategy is to exploit the broad applicability of our antisense technology platform in order to develop antisense drugs in many different therapeutic areas," B. Lynne Parshall, chief operating officer of Isis, said in a statement.
Isis has a broad pipeline of such antisense drugs, and has begun commercializing its first major drug, Kynamro. It recently filed for a $182 million secondary public offering.
In upfront and milestone payments, it has received $41 million from AstraZeneca.
Send any news about locally based health care organizations, biotech and clean-tech to Meghana Keshavan at mkeshavan@sdbj.com. She can be reached at 858-277-6359.