THE BUSINESS OF LAW
Higgs' Attorneys Do Good Work On Stage and in the Community
Monday, June 17, 2013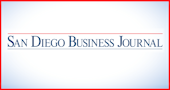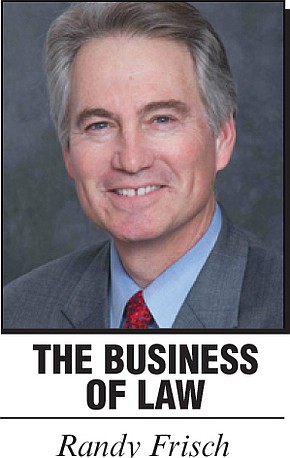 John Morrell is a terrific attorney, and has done a great job of managing Higgs Fletcher & Mack to be one of San Diego's largest locally focused law firms. He's also pretty good on his feet. Earlier this month at Rotary Club 33's Annual Heilbron Awards, the mistress of ceremonies was introducing Morrell and his firm as the sponsors. "John, of course, is from McKenna Long Aldridge." The crowd stirred, and the host corrected the mistake. Morrell got to the podium and said, "Actually, I'm from Luce Forward." The crowd loved it.
Speaking of Higgs, partner Cynthia Morgan was recently elected board chair of Civic San Diego (formerly Centre City Development Corp. and Southeastern Economic Development Corp.). In addition to overall board management, Morgan will make committee appointments and strategically assemble working groups that will take on heightened issues addressing neighborhood-specific concerns.
"I am thrilled to have been elected chair of an organization with a great history that is transforming itself to meet the economic development needs of the city," said Morgan, former treasurer of the board and land use attorney. Civic San Diego (CivicSD) has made a number of recent announcements including the implementation of an Affordable Housing Master Plan for downtown and surrounding areas as well as receiving its first federal tax credit allocation worth $35 million.
Hecht Solberg Robinson Goldberg and Bagley LLP attorney Amanda Allen was named by the Lawyers Club of San Diego as its first recipient of the C. Hugh Friedman New Lawyer Award. The award, initiated by Lawyers Club this year, recognizes a young attorney who has advanced the organization's mission and demonstrated exceptional leadership and professionalism within the legal community. "Amanda has been a champion in helping the Lawyers Club of San Diego promote the status of women in the law and society," said Sarah R. Boot, Lawyers Club president. A member of Lawyers Club since 2010, Allen co-chairs the Reproductive Rights and Women's Advocacy Committee and has worked to advance the organization's partnership with the Coalition for Reproductive Choice. The C. Hugh Friedman Award was named for professor Hugh Friedman, who was a charter Lawyers Club member and significant contributor. Allen joined HechtSolberg in 2008 and specializes in real estate and general business law, commercial transactions and civil litigation.
The San Diego County Bar Association's Legal Ethics Committee (LEC) recently issued two opinions you might want to know about. In the first, Opinion 2013-1, the LEC explored whether a general conflict waiver in an engagement agreement allows an attorney to continue representation after an actual and irreconcilable conflict of interest arises. No, according to the committee and the advisory opinion, which concluded that unless both clients provide informed, written consent to the actual conflict, the attorney may not continue to represent the clients and must withdraw in any proceedings where the interests conflict. In the second opinion, Legal Ethics Opinion 2013-2, the committee examined California Rule of Professional Conduct 5-300(B), specifically ex parte contact with a judge before whom a matter is pending. The committee determined that an attorney should tread carefully in engaging in ex parte communication of any kind with a judge before whom the attorney has a pending matter. Such contact is ill-advised in any context. Any reference to the pending matter in such a communication, or any demonstrable motive to influence the pending matter, may offend the letter and the spirit of the rule addressing such ex parte contact. You read it here first, or at least you might have. Either way, it's good to know this stuff.
Allen Matkins Leck Gamble Mallory & Natsis LLP has bested the other San Diego law firms participating in the 2013 "Food from the Bar," an annual fundraising competition supporting Feeding America San Diego. Raising a total of $4,255, donating 400 pounds of food, and volunteering 66 hours of community service, Allen Matkins received the "Best All-Around Award" for its outstanding achievements in all areas of the campaign. Allen Matkins has been a top competitor in the program for the past two years.
Speaking of Allen Matkins, it was lead counsel for the Imperial Irrigation District, in a 10-year legal battle to have its Qualification Settlement Agreement validated, and all environmental compliance approved. The QSA has been determined by the Legislature to be critical for California's water supply. Mark Hattam was lead trial counsel, with Jeffrey Chine and Kathryn Horning also on the trial team. This decision brings finality at the trial court level to the lawfulness of the QSA. Siding with IID were the State of California, the San Diego County Water Authority and other local Southern California water agencies. Opposing the IID were the County of Imperial and its air district, as well as various disgruntled landowners who wished to control the water transfers themselves.
Procopio, Cory, Hargreaves & Savitch LLP recently hired Stephanie Conduff as the firm's fourth recipient of its summer Native American internship program. Conduff is a Citizen of the Cherokee Nation of Northeast Oklahoma and recently finished her second year at University of Oklahoma School of Law. She also previously worked as a journalist for The Boston Globe.
"We recognize that it can be difficult for Native American attorneys to get experience in a full-service law firm that also deals with Native American law. We want to give our interns that opportunity,"said Ted Griswold, Procopio partner and Native American practice group leader.
Randy C. Frisch is the former president and publisher of the San Diego Business Journal. He is licensed to practice law in California, Nevada and Idaho. He can be reached at rfrisch@sdbj.com.