Maxwell Technologies Awarded $1.39M Contract from California Energy Commission
Wednesday, June 12, 2013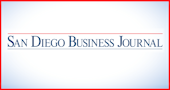 San Diego-based Maxwell Technologies Inc. has been awarded a $1.39 million contract by the California Energy Commission to design and install an energy storage system at UC San Diego.
The new system will integrate with the existing solar energy modules at UCSD, which were designed by French semiconductor manufacturer Soitec Solar, which has a plant in San Diego.
The project will start this month, and run through November 2015.
"Investing in solar energy research is vital to California reaching its goal of 33 percent renewable generation by 2020," California Energy Commission chair Robert Weisenmiller said in a statement. 'This innovative project combining energy storage with concentrated photovoltaic technology has the potential to increase the state's renewable energy portfolio, decrease greenhouse gas emissions, and create a more reliable electricity grid."
— SDBJ Staff Report