BREAKING NEWS FROM WWW.SDBJ.COM
News in Briefs
Monday, June 10, 2013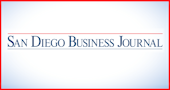 Red Lobster Completes Remodeling of Two Restaurants
Florida-based Red Lobster has completed a remodeling of two San Diego restaurants, as part of a nationwide program of site renovations and menu updates.
A company spokesman said the remodelings — at 3780 Sports Arena Blvd. and 8330 Mira Mesa Blvd. — stem from a program started in 2008, in which the casual-dining seafood restaurant chain is investing $300,000 to $500,000 per location in renovations. Red Lobster is aiming to have all of its restaurants remodeled by the end of 2014.
The San Diego restaurants' exteriors now include a stone tower similar to architecture used in New England, with ship lanterns and Adirondack-style chairs to encourage outdoor mingling and conversation. Interiors have been expanded to allow for large parties, and the company has installed new LED lighting among other energy-saving upgrades.
Red Lobster has more than 700 locations, including five in San Diego County. It is among several restaurant brands owned by Darden Restaurants Inc. of Orlando, Fla.
— SDBJ Staff Report
Circle Foods Acquired By Tyson Foods
Circle Foods, an Otay Mesa-based maker of tortillas and other Mexican foods, was acquired by Tyson Foods for an undisclosed price, Tyson said.
Tyson, a $33 billion company based in Springdale, Ark., and best known for its chicken production, said it acquired Circle from Claridge Inc., a Montreal-based private equity firm.
Circle has a 159,000-square-foot factory with about 600 full-time employees. Tyson said it doesn't plan any significant changes and that it intends to retain the existing management and production team.
Circle makes branded products that include Nuevo Grille, Tortillaland, and Rotiland. The company's plant that was built in 2008 produces burritos, chimichangas, enchiladas, quesadillas, tacos, tamales, as well as tortillas and Indian flatbreads.
Private equity firm Claridge is owned by the Stephen Bronfman family of Canada. In addition to its portfolio of companies in the real estate and entertainment industries, it has investments and equity stakes in such food businesses as Plats Du Chef of Montreal and La Terra Fina of California.
— SDBJ Staff Report
Enlightened Hospitality Changing Burlap Restaurant
San Diego-based Enlightened Hospitality Group is closing its Burlap restaurant in Carmel Valley on June 10, with plans to reopen it as Searsucker Del Mar on June 17.
The restaurant is located at 12995 El Camino Real in the Del Mar Highlands Town Center. Searsucker will serve what the company describes as a "new American classic" menu.
It will replace Burlap, which operated at that location for the past two years, with a menu fusing Asian and Western "cowboy" themes.
A spokeswoman for Enlightened Hospitality said the company is targeting its Searsucker and Herringbone restaurant brands for national expansion. During the past year, it opened new Searsucker locations in the Phoenix and Austin, Texas markets.
Its original Searsucker is located in the Gaslamp Quarter, and its seafood-focused Herringbone is in La Jolla.
Enlightened Hospitality Group, led by James Brennan and celebrity chef Brian Malarkey, also operates the local restaurants Gabardine and Green Acre, as well as the Stingaree nightclub in downtown San Diego.
The company recently closed its Gingham restaurant in La Mesa.
— Lou Hirsh
Impact Components Lands Five-Year Navy Task Order
Impact Components of San Diego is one of five small businesses that the U.S. Navy will use to procure electronic components — such as integrated circuits, resistors, capacitors, transistors and flash chips.
Impact will now compete for task orders under the deal. The government estimates that it will spend $9.25 million among the five vendors over the five years of the contract.
The San Diego business specializes in components that are at the end of their lives or obsolete. "If it exists on this planet," says the Impact Components website, "we will track it down."
The Navy's other vendors are in Southern California and New Jersey.
The Naval Air Warfare Center Weapons Division in China Lake awarded the contract. Ten companies bid for the work.
— SDBJ Staff Report