Arena's Anti-Obesity Drug Heads to Market, Triggering $65M Payment
Monday, June 10, 2013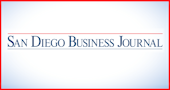 San Diego-based Arena Pharmaceuticals Inc. announced that its anti-obesity drug, Belviq, will go on sale Tuesday — triggering a $65 million milestone payment from its marketing partner, Japanese drugmaker Eisai Co. Ltd.
Belviq is the company's first drug to hit the market. It has been in development for more than 10 years, and received approval from the U.S. Food and Drug Administration nearly a year ago.
Arena will manufacture Belviq in its Switzerland-based manufacturing plant, and Eisai will market the drug — primarily in the U.S., Canada and Central America.
Eisai said the drug will cost $200 per month, wholesale. Patients will likely pay less than that, depending on their insurance coverage level.
A $1.9 billion market cap company, Arena employs about 220 in San Diego and an additional 75 in Switzerland. Its shares traded at $8.69 at market close Friday.
— Meghana Keshavan