Oberon Fuels Partners with Volvo Trucks and Safeway Inc. to Test Biofuel
Friday, June 7, 2013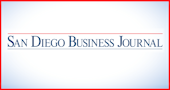 San Diego-based Oberon Fuels Inc. has partnered with Volvo Trucks in North America and Safeway Inc. to test a biofuel called dimethyl ether in heavy-duty commercial trucks.
Oberon Fuels also announced that it has developed a skid-mounted, modular fuel production plant, and is launching its first one later this month. The plant will produce 4,500 gallons of dimethyl ether (DME) per day, the company said.
"We believe DME has great potential in the North American market — and when produced from biomass, it can provide a 95 percent reduction in CO2 compared to diesel," Goran Nyberg, president of Volvo Trucks North American sales and marketing, said in a statement. "Our field tests with Oberon Fuels will allow us to show the performance value of this fuel in heavy-duty trucking and prove our role as a leader in alternative fuel and driveline development."
— SDBJ Staff Report