Enlightened Hospitality Changing Burlap Restaurant to Searsucker Banner
Wednesday, June 5, 2013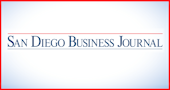 San Diego-based Enlightened Hospitality Group is closing its Burlap restaurant in Carmel Valley on June 10, with plans to reopen it as Searsucker Del Mar on July 17.
The restaurant is located at 12995 El Camino Real, #21, in the Del Mar Highlands Town Center. Searsucker will serve what the company describes as a "new American classic" menu.
It will replace Burlap, which operated at that location for the past two years, with a menu fusing Asian and Western "cowboy" themes.
A spokeswoman for Enlightened Hospitality said the company is targeting its Searsucker and Herringbone restaurant brands for national expansion. During the past year, it opened new Searsucker locations in the Phoenix and Austin, Texas markets.
Its original Searsucker is located in the Gaslamp Quarter, and its seafood-focused Herringbone is in La Jolla.
Enlightened Hospitality Group, led by James Brennan and celebrity chef Brian Malarkey, also operates the local restaurants Gabardine and Green Acre, as well as the Stingaree nightclub in downtown San Diego.
The company recently closed its Gingham restaurant in La Mesa.
— Lou Hirsh