NEWS AND NOTES FROM COMMUNITIES AROUND SAN DIEGO COUNTY
Regional Report
Monday, June 3, 2013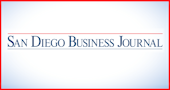 RAMONA
Affordable Housing Project Eyed North of Town Center
AMCAL Multi-Housing Inc. has proposed developing 60 units of workforce housing for families in Ramona.
The project would sit on 8 acres on the north side of Robertson Street and Pala Street, a few blocks off Main Street. An AMCAL representative discussed the proposal recently before the Ramona Community Planning Group.
AMCAL has yet to apply to the county for entitlements, said Mario Turner, vice president for development in AMCAL's Irvine office.
Newman Garrison & Partners of Newport Beach would be the architect for the complex, which would stand two stories high and feature a separate community room. Families living in the complex would need to meet income requirements.
Agoura Hills-based AMCAL bills itself as a leading California builder of affordable and low-income housing. It also builds market-rate housing.
— Brad Graves
FALLBROOK
Wrenchers Inks Distribution Deal With National Tattoo
Wrenchers Body Products LLC of Fallbrook recently announced that National Tattoo Supply of Allentown, Pa. will distribute its product.
The distributor will offer Wrenchers Body Shop Babied Hands Botanic Blend hand lotion by mail order.
Wrenchers' products are made in the United States with natural ingredients including aloe, shea butter and avocado oil. Wrenchers says it avoids petrochemicals, adding that its products are family friendly and ecologically safe.
— Brad Graves
CHULA VISTA
Aquatica Now Open Featuring Big Surf Shores
Aquatica, the water theme park that was formerly called Knott's Soak City, opened June 1.
Now owned by SeaWorld Parks & Entertainment since its purchase last year, the water park features up-close animal experiences, high-speed rides and beachside resort amenities.
Among the attractions is Big Surf Shores, a 500,000 gallon pool that produces swells of up to five feet, complete with a white sandy beach.
Tickets for the park are $38 for adults and $30 for children ages 3 to 9 years old.
— Mike Allen
OCEANSIDE
Transit District Resumes Sprinter Train Service
North County's regional Sprinter light-rail train service has resumed after a suspension of more than two months, after officials addressed maintenance issues affecting braking systems.
A statement from the Oceanside-based North County Transit District said the resumption followed completion of extensive safety testing, a review of replacement parts, and inspections of overall vehicle and railroad infrastructure by federal and state authorities.
Systems were given the go-ahead by the Federal Railroad Administration and California Public Utilities Commission. The Sprinter train, its signals and tracks have passed all testing and have resumed service, with vehicles equipped with split disc rotors on the center axles.
Transit district officials worked with Veolia Transportation, which operates the Sprinter service, and train maker Bombardier Inc. to strengthen maintenance practices and improve contractor oversight, ahead of the district's original schedule, the statement said.
— Lou Hirsh
El Cajon
Apartment Owner Obtains $6.5M in Refinancing
Owner L.E.W. Management Corp. has obtained $6.5 million in refinancing for the 110-unit Villa Grande Apartments in El Cajon.
The loan has a term of 35 years. The name of the lender was not disclosed in a statement from San Diego-based Real Estate Capital Advisors, which arranged the financing.
Villa Grande Apartments is located on 4.5 acres at 1360 E. Madison Ave. It was built in 1976, according to CoStar Group.
— Lou Hirsh