aTyr Pharma Inc. Secures $59M In Funding
Tuesday, July 30, 2013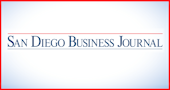 San Diego's aTyr Pharma Inc. has secured $59 million in funding — $49 million from venture sources and $10 million in debt financing. Investors in the equity financing include Alta Partners, Cardinal Partners, Domain Associates and Polaris Partners.
The company is developing first-in-class therapeutics for autoimmune diseases, and the funding will help bring the company's treatments to clinical trials. It uses a class of proteins called physiocrines that reduce inflammation in the body. To date, few companies have used this approach to treat autoimmune diseases, aTyr said.
"Our focus on new biology in immunology rapidly translated into development of protein therapeutics to treat essentially untreatable, grave immune disorders," said aTyr CEO and Executive Chairman John Mendlein.
He said the company's existing pipeline of drugs represents an "industry unique opportunity" to intervene in an adverse autoimmune response. The research from the privately held company, which was founded in 2007, comes from the Scripps Research Institute.
— Meghana Keshavan