Vibra Bank Reports Unaudited Net Income of $61,000 for Q2
Monday, July 29, 2013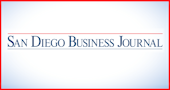 Vibra Bank, with a single office in Chula Vista, reported unaudited second quarter net income of $61,000, compared with net income of $207,000 for the like quarter of 2012.
Total loans at the bank grew 28 percent to $104 million, while its total assets increased 13 percent over the year to $126 million. Deposits stood at $112 million, up 14 percent.
To comply with a regulatory sanction last year concerning how the bank was reporting certain data, Vibra had to spend more on personnel and other costs. That increased spending caused a net loss in the first quarter, and reduced profits in the second quarter.
CEO Scott Parker said the bank continued its robust growth in the past quarter and back in positive territory in terms of earnings. "This quarter's earnings reflect the upward trend we expect to expand upon as we continue to grow our high-quality loan portfolio within our market."
Vibra, which focuses on lending to Latino business customers, had capital ratios that exceed federal regulatory minimums. Its total risk-based ratio as of the end of the second quarter was 16.8 percent, above the 10 percent level to be considered well-capitalized.
— SDBJ Staff Report