Planning Commission Approves 2 New Hotels Near Carlsbad Airport
Wednesday, July 24, 2013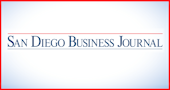 The Carlsbad Planning Commission has approved plans for two hotels, with a total of 239 rooms, planned for a site near McClellan-Palomar Airport.
According to a commission staff report, Alps Innovation LLC of Solana Beach plans to develop a 106-room Staybridge Suites and a 133-room Holiday Inn on a 9.19-acre site. The property is located south of Palomar Airport Road, east of Innovation Way, and west of Colt Place, within the larger Bressi Ranch master plan.
At their recent meeting, planners approved two conditional use permits allowing for construction. Timetables for construction of the three-story hotels have not been announced.
— SDBJ Staff Report