Northrop Delivers New, Larger Model of Fire Scout to Navy
Tuesday, July 23, 2013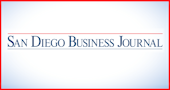 Northrop Grumman has delivered the first of its bigger, better Fire Scouts.
The Falls Church, Va.-based corporation said the U.S. Navy took delivery of the unmanned helicopter, known as the MQ-8C, in early July.
The new helicopter is larger than the original MQ-8B model, which is about the size of a classic Volkswagen bug. The MQ-8C? It's about the size of a van.
Northrop Grumman does engineering work on the Fire Scout in Rancho Bernardo, at its Unmanned Systems Center of Excellence.
The old Fire Scout is built from a Schweizer Aircraft helicopter model with a gross weight of 3,150 pounds. It currently operates off Navy frigates and in Afghanistan. Its job is collecting intelligence.
The new Fire Scout is based on the Bell 407 helicopter. Its gross takeoff weight is 6,000 pounds.
The Navy will now conduct tests on its newly delivered, larger aircraft.
Northrop Grumman is building the larger Fire Scout in response to an urgent requirement from the armed services. Navy commanders say they want increased endurance, range and payload capacity in the helicopter.
The new model's initial deployment is scheduled for 2014.
— SDBJ Staff Report