PROPERTY: PROPOSED CHANGES SEEN AS THREAT TO INDUSTRIAL WORK
Shipyards Want to Stay The Course on Zoning
Monday, July 22, 2013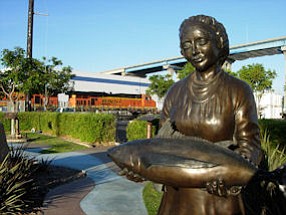 The ship repair business, including the big yards run by BAE Systems, Continental Maritime and General Dynamics Nassco, looms large in Barrio Logan.
However, a new zoning blueprint for the neighborhoods flanking the San Diego-Coronado Bridge and Naval Station San Diego calls for change, including less industrial land.
Parts of that plan don't sit well with the president of San Diego's ship repair industry association, who says the group will plead its case when the blueprint goes to the San Diego City Council for approval in September. The California Coastal Commission must also OK the plan.
The Commercial Push
The displacement of industrial land has been a common story in San Diego for the last several decades. Commercial redevelopment has steadily spread south and east from downtown's heart.
The push continues. There is a proposal to build 500 more rooms for the Hilton San Diego Bayfront hotel, which is located next to the 10th Avenue Marine Terminal.
One prominent San Diego businessman has suggested putting a new stadium for the San Diego Chargers at the terminal itself, which sits just north of Barrio Logan.
Neighborhood Concerns
At present, Barrio Logan is a hodgepodge, with residences next to industry. Some are concerned about the health effects of living next door to industry.
Derry Pence, president of the Port of San Diego Ship Repair Association, said the San Diego Planning Commission recently considered two alternates for the Barrio Logan Community Plan Update. Currently Barrio Logan has 122 acres of industrial land.
One alternative called for reducing industrial acreage by 34 percent. A second called for a 50 percent reduction. The commission approved the latter plan.
Of particular interest, Pence said, is a five-block strip of land bounded by Main Street, Evans Street, Newton Avenue, Boston Avenue and 28th Street. The Planning Commission OK'd residences in that five-block stretch.
Pence said the ship repair industry would prefer maritime uses in that strip of land, to help create a 1,000-foot buffer zone between the shipyards and housing. The distance somewhat eases the health concerns of living near an industrial area.
Difficulty for Businesses
Several observers said that if the council approves the new zoning plan, existing businesses would be grandfathered in.
However, there are several ways that a change in zoning could make business more difficult.
For example, businesses on nonconforming lots could find it harder to get a bank loan, said Terry Buis, business development manager for BAE Systems.
Pence and Buis noted that Barrio Logan includes not just the shipyards, but their subcontractors and suppliers, who need to be close to the shipyards.
The Planning Commission's decision "displaces some critical subcontractor base that is near to our facility," Buis said.
Ultimately that could drive up costs. That won't sit well with the shipyards' big client, the U.S. Navy.
Buis said he's concerned about becoming less competitive than other shipyards, perhaps in the San Francisco Bay Area or Puget Sound markets.
Pence said the approved plan sets aside a swath of land at the southeast end of the district for heavy industry. However, he said, that neighborhood does not have any vacant land that businesses can use to grow.
'Natural Evolution'
Mark Steele is an architect who bases his practice in Barrio Logan. He said community plans typically take 20 to 30 years to be implemented.
Businesses will be able to stay, he said, noting they might be able to grow in intensity if not in square footage.
"Nobody's going to force these people out of business," Steele said.
Steele's wife, Dale Steele, is one of the entrepreneurs who opened the San Diego Public Market, a farmers market in a former Barrio Logan boiler factory, one year ago.
Dale Steele said there is a "natural evolution" of the northern part of Barrio Logan toward redevelopment. The land is close to downtown and "still affordable," she said.
Indeed, it seems that neighborhoods north of the bridge and south of the bridge have their own, distinct issues, Mark Steele said.
"A lot of people are interested in the barrio nowadays," said the architect, who recalled overhearing a conversation recently at the Blueprint Café, the business which shares his building.
"This is Barrio Logan," the unidentified speaker said. "This is where the hipsters are."