FINANCE: IT PLANS TO SERVE 'UNDERBANKED' POPULATION THIS YEAR
US Lending Is the Next Move for Global Analytics
Monday, July 15, 2013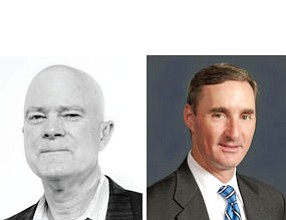 Global Analytics knows there's plenty of opportunity among the vast numbers of folks who shun traditional credit sources.
"In the United States, this is a huge market, about 20 percent of the population, who are underbanked," said Michael Thiemann, Global Analytics chief executive officer. "There are literally hundreds of billions of dollars in financial services products used by this population."
The privately held, nonbank lender has two subsidiaries, Zebit and Lending Stream, both operating in the United Kingdom, and plans to launch in the U.S. this year, assuming it receives the proper licenses.
"We hope to be in the market by the beginning of the holiday season," said Thiemann, who oversees operations from an office in University City.
Global recently obtained a $30 million debt facility from Crystal Financial LLC, although those funds are specifically tabbed for the U.K. Thiemann says the company will rely on some of the $50 million in equity capital raised from four venture capital rounds to get the domestic business going. Since its inception in 2003, Global has raised $95 million (some $45 million in debt).
Changed Its Model
Given what the business accomplished since changing its model in 2008 to become a direct, short-term unsecured lender, expansion to the most debt-happy nation on the planet appears a no-brainer.
"We're now the fourth largest lender in the U.K.," said Thiemann. Last year's revenue was $80 million; this year the firm is on track to break $100 million, he said.
At the end of last year, the loan portfolio stood at $30 million. Obviously, loans aren't on the books long. The main product is an unsecured loan of less than $1,000 for a six-month term.
Interest rates on loans can be daunting, ranging from 10 to 30 percent per month. The company said the U.S. interest rates would be close to 10 percent a month.
But if you're flat out of cash and desperate, tapping Zebit may be the answer, Thiemann said. "Our typical customers are young adults who do not have established credit and have an immediate need for credit," he said.
"These are people who may have a credit card but their card is already maxed out and they need their car fixed and have nowhere to turn," he said.
Global makes getting that cash simple. Fill out an application via a smartphone or PC, send it along and within 30 seconds, the company decides whether one is cash-worthy. Funding is provided in less than two minutes.
Data Tell a Story
The company's underwriting uses lots of data that most traditional lenders wouldn't even consider. While much of it is provided by borrowers, the firm can look at Facebook pages to cull data such as how many friends one has or how long a borrower lived in one place. Other data from Internet browsers reveals a trove of info that can help or hurt a borrower's chances, the company said.
Global's founders hail from one of the area's most successful software companies HNC Software the developer of the Falcon fraud detection program, which is used extensively by financial corporations.
If federal regulators get their way, Global Analytics and similar, unsecured cash lenders could be swimming in business.
In April, both the Federal Deposit Insurance Corp. and the Office of the Comptroller of the Currency issued guidelines to banks to curtail direct advance payday loans by imposing more requirements on such loans.
Several major banks including Wells Fargo Bank and U.S. Bank offer the loans.
Rick Sanborn, chief executive of Seacoast Commerce Bank in Rancho Bernardo, said regulators should back off from restricting banks from the payday lending.
A Needed Service?
"People typically use payday loans because they need the money at that moment. If banks are unable to provide the money when it's needed, people will go into the dark alleys or alternative sources to get it," Sanborn said.
Those sources usually charge much higher rates than banks do, he said.
Yet financial advocacy groups take a hard line against all manner of short-term, high-cost lending, no matter the source. "Payday lending through storefronts, the Internet or banks harms borrowers," said Peter Skillern, executive director of North Carolina-based Reinvestment Partners. "We call on the Federal Reserve to follow the lead of the OCC and the FDIC to take a firm stand against predatory lending."
Global's local staff numbers only 25, but it maintains a development office in Chennai, India, and a tech support office in Delhi, India, with a combined 325 people, bringing its total to 350.
Once U.S. operations commence, there could be a minimum addition of five employees here, and possibly 25 more next year, Thiemann said.