NEWS IN BRIEF
OliverMcMillan Sells 3- Property Lofts Portfolio Developer Oliver
Monday, July 15, 2013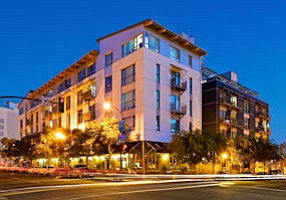 OliverMcMillan Sells 3-Property Lofts Portfolio
Developer OliverMcMillan of San Diego has sold a three-property East Village multifamily portfolio known as The Lofts, with a total of 460 residential units and 23,000 square feet of ground-floor retail space.
The buyer was JPMorgan Chase & Co. Investment Management, on behalf of a pension trust fund that it oversees, according to CoStar Group and public data. The properties are at 655 Sixth Ave., 677 Seventh Ave. and 707 Tenth Ave.
Transaction prices were not immediately divulged. According to publicly filed loan documents, the transaction on the property at 655 Sixth Ave. involved the buyer assuming an existing loan of approximately $23.4 million.
The Tenth Avenue property was built in 1980, and the other two were developed during the past seven years.
According to brokerage firm CBRE, which represented the seller, each asset was purchased as a separate entity designated as a limited liability company.
In its own recent statement, OliverMcMillan said it is currently moving forward with plans to build luxury mixed-use and residential developments in San Diego, Houston, Atlanta, Honolulu and Tempe, Ariz., representing a total of $2 billion in projected investments.
OliverMcMillan was founded in 1978. The company said construction is underway on its The Lofts at 688 13th St. in downtown San Diego, a five-story development that includes 208 apartments, a roof deck and ground-floor retail space.
— SDBJ Staff Report
ViaSat to Receive $166.3M In Military Radio Work
Carlsbad-based ViaSat Inc. will receive a contract modification worth $166.3 million on a communication system for the U.S. military, the Defense Department announced.
Under the contract, ViaSat will perform systems engineering and integration of an electronics package called multifunctional information distribution system.
In Pentagon shorthand, the radio system is called MIDS. Work will be done on two MIDS projects: low-volume terminals as well as the next-generation joint tactical radio system, aka JTRS.
U.S. Air Force, Army and Navy platforms all use MIDS.
Work will continue through March. Space and Naval Warfare Systems Command, or Spawar, issued the contract.
A second company — Data Link Solutions LLC of Cedar Rapids, Iowa — will receive a similar contract modification. Data Link Solutions is a joint venture of BAE Systems and Rockwell Collins.
— SDBJ Staff Report
BioNano Sells System to Major Genome Player
The New York Genome Center will purchase the Irys System from San Diego's BioNano Genomics Inc., as part of what the companies call a strategic partnership. Financial terms of the deal were not disclosed.
The Irys equipment increases the ease of DNA sequencing, the company said, by detecting any variations in gene structure and allowing a researcher to complete genome assemblies.
"For BioNano, demonstrating the ability to deliver a commercial-ready technology that can address the long-range information needs of a premier genome center like NYGC marks an important milestone," said Todd Dickinson, vice president of global commercial operations for BioNano, in a statement.
"With their Irys System, the NYGC will now provide their direct research community with the most advanced long-read commercial technology to accelerate translational research and ultimately improve human health, consistent with the mission of this new center."
BioNano is a privately funded company founded in 2006. Last year it raised about $33.5 million in Series B funding, but hasn't announced any recent rounds since.
— SDBJ Staff Report
Tenants Stake Claim to Former Borders Site
Education services provider Kaplan International North America and upscale Brazilian-style steakhouse Fogo de Chao will be occupying the former Borders Books & Music building in the Gaslamp Quarter by the end of summer.
According to a statement from brokerage firm Cushman & Wakefield, which handles leasing for the property at 668 Sixth Ave., Kaplan International has signed a 10-year lease, valued at approximately $5.7 million, to occupy the building's second floor.
Kaplan International, a division of London-based Kaplan Inc., works with universities to provide courses for international students, preparing them to study at American universities.
Fogo de Chao Restaurants, based in Dallas, has leased 11,372 square feet on the first floor, to operate what will be the 20th location of its Brazilian Churrascaria-style restaurant.
The 33,000-square-foot building, at the southwest corner of Sixth Avenue and G Street, was built in 2002 and housed the Borders store until the Michigan-based chain closed in 2011. The building was purchased in June 2012 by IPG Monro Capital Fund I LP.