HEALTH: TELEMEDICINE TARGETS THE INEFFICIENCIES OF HEALTH CARE DELIVERY
HEALING THE SYSTEM
Monday, July 15, 2013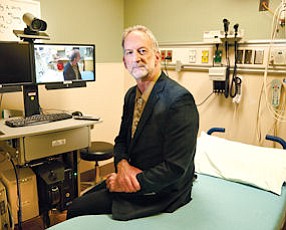 The overcrowding of emergency departments has long been a major driver of the nation's health care cost crisis. This has led to UC San Diego piloting a new approach that could help alleviate this financial burden, using one of the industry's most buzzed about technologies: telemedicine.
Telemedicine uses telecommunication and information technology to provide clinical health care at a distance. The general consensus is that telemedicine will be an important addition to the health care system — lessening the burden for physicians by allowing them to make judgment calls through video consultations and other remote patient monitoring services.
"The motivation of our pilot program relates to the nature of emergency medicine, and its ultimate unpredictability," said David Guss, the program's principal investigator and chair of the department of emergency medicine at UC San Diego School of Medicine.
The imbalance of staffing frequently leads to emergency department overcrowding, Guss said. The UCSD program, which has been in effect for about six months, keeps a physician on call to remotely triage patients when the waiting room is at capacity. From anywhere, the UCSD docs can speak using a video camera for emergency room consultations, with the help of a nurse who's at the patient's side.
"This telemedicine study will determine if we can decrease wait times while reducing the number of patients who leave the ER without being seen by a physician," Guss said.
ER Usage on the Rise
Keeping a physician physically in the triage area has been shown to work very effectively to hasten emergency department wait times, but is quite costly, Guss said. When an emergency department is quite busy, the expense is absorbed because the hospital's treating many people. But if an emergency department is slow, the cost of keeping an additional doctor on staff is a waste of valuable time — and money.
A recent study from Santa Monica-based global policy think tank the Rand Corp. found that emergency room usage is on the rise, and will continue to be an important safety net for Americans who can't get care elsewhere. And, if emergency department care is better streamlined, the May 2013 study said that on-site treatment and consults could actually help slow the growth of health care costs.
"We believe there needs to be more effort to integrate the operations of emergency departments into both inpatient and outpatient care systems," said Kristy Gonzalez Morganti, the study's lead author and a policy researcher at Rand.
The study found that ways to accomplish this include greater use of health information technology, better coordination of care and case management, and more collaborative approaches to medical practice — all goals cited in the new UCSD pilot.
Because beyond basic question and answers to determine the cause of a patient's visit to the ER, the doctor can use a nurse to help guide the triage consult — increasing overall collaboration as well as efficiency.
If a nurse peers into an ear with an otoscope, both doctor and patient can see what's going on inside. This allows for dialogue between the patient and doctor, since the patient has the same view on the computer screen, Guss said.
Patients Are Thrilled
"We've got a number of peripheral devices that allow for the examination of the ears, nose and throat, and a high resolution camera to look at skin lesions with great fidelity," Guss said. "It really improves the transparency of the emergency department visit — and the patients, so far, have been thrilled."
The study is being funded with a $50,000 grant from the University of California Health Quality Improvement program. Its ultimate goal is to prove efficacy on a small scale — in UCSD's emergency departments — so that it can be expanded to a multicenter study. Ultimately, Guss said he believes that allowing on-call doctors to phone in remotely — or rather, have video consults remotely — could improve treatment efficacy and reduce costs in emergency departments across the country.
Telemedicine is a fast-growing field. The global market was about $11.6 billion in 2011 and will increase to $27.3 billion in 2016, according to Wellesley, Mass.-based market research firm BCC Research LLC.
According to the researchers, the telemedicine market is still small, but it continues to grow due to a large amount of vendors and increasing awareness of its effectiveness. Overall, the aging population, increasing costs of health care, dwindling resources, advancing technologies, and it cost-effectiveness are reasons for its growth.
"I think there's room for even more growth in telemedicine, thanks to health care reform," said Joseph Smith, chief medical and chief science officer at West Health Institute, a San Diego medical research organization with an aim to lower health costs through wireless health initiatives.
Growing Case for Telemedicine
He said that as insurance company reimbursement continues to shift from paying for specific procedures and patient volume to paying for value and patient outcomes, the case for telemedicine will grow.
"The new idea is that you get the patients better however you can, at the cheapest infrastructure costs you can imagine," Smith said. "Telemedicine is extremely attractive in that regard."
UCSD is not the only area health system experimenting with telemedicine. Sharp Rees-Stealy is piloting a program where primary care doctors can talk to patients remotely for follow-up appointments, in lieu of time-consuming personal visits.
The health system is also deploying other wireless programs, including a new mobile platform for asthmatics. The "Asthmapolis" system is designed to help patients and their physicians better understand and control their asthma, with the goal of reducing preventable emergency room visits and hospitalizations.
Patients frequently report they don't always have the time or ability to track their medication use.
The Asthmapolis snap-on sensor attaches to an inhaler and wirelessly syncs with a smartphone to create a mobile asthma diary solution. Symptoms and triggers are tracked automatically, reports are accessible to physicians and patients, and email and text reminders are sent to patients to take their medication.
"In an age where time and money are so important, the employers out there don't want their workers to leave for doctor's visits," said Edward Greene, an internal medicine physician at Sharp Rees-Stealy who is piloting the health system's telemedicine program. "We've been contacted by companies that want their employees to stay at their site, and have us do consultations via telemedicine. I think it's the way medicine is headed in the future — and I think the productivity for companies and personnel will be expanded."