PROPERTY: INDUSTRY GROWTH EXPECTED TO CONTINUE FOR YEARS
Craft Brewers Thrive, Drive Need for Space
Monday, July 15, 2013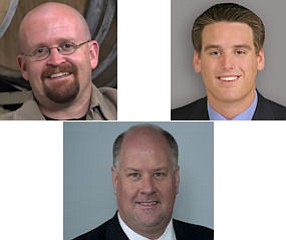 Work space is filling up quickly at Port Brewing Co. and sister craft-brewer The Lost Abbey in San Marcos, which since 2006 have seen their physical operations grow from 7,500 to 40,000 square feet.
The brewers' products are now shipped to nine states as domestic demand continues to rise, and Chief Operating Officer Tomme Arthur said the company is actively scouting the region for an additional larger location to own or lease, as it nears the point of outgrowing its four current production and distribution buildings.
"Our No. 1 priority is to stay in San Marcos," Arthur said. "Our current space will probably be fully used up within the next three to five years."
A recent report by the commercial brokerage firm Cassidy Turley San Diego notes that the local region's rising profile as a craft beer capital is being reflected in soaring demand for space needed to produce, distribute and sell the homemade brews.
Industrial Space
Brewers are forecast to account for nearly 5 percent of overall new industrial space demand in San Diego County over the next 12 to 24 months — which translates into approximately 215,000 square feet of needed space.
Todd Davis, a senior vice president in Cassidy Turley San Diego's Carlsbad office, said more than half of all new brewery licenses in San Diego County have been issued in the last two years.
San Diego County now has more than twice the number of Type 23 licenses, issued to breweries producing up to 60,000 barrels annually, than any other California county. While craft beer businesses are relatively easy to start, those companies require additional space to sustain themselves over the long run — not only for production, but also to set up tasting rooms with taps and retail sites where they can sell by the bottle.
"You basically need the three-pronged approach for this kind of business to work best," Davis said.
Data from the Colorado-based Brewers Association indicates that San Diego County is home to 61 of the nation's 2,403 craft breweries. According to the National University System Institute for Policy Research, local brewers and brew pubs generated $680.9 million in sales and represented a nearly $300 million direct impact on the San Diego region's economy in 2011, as the industry employed 1,630 locally.
Cassidy Turley notes that the impact is greater if wholesale, retail and other industries indirectly supported by brewers are factored in, and there are now more than 10 annual beer festivals bringing thousands of visitors to the San Diego region.
Zoning Changes
The impact is likely to increase as craft beers continue to see their popularity rise at stores and restaurants. Danny Fitzgerald, a retail specialist with Cassidy Turley, noted that the City of San Diego recently approved zoning changes that will let craft breweries open full-service restaurants and tasting rooms if they have at least 12,000 square feet of floor space in zones that allow light manufacturing.
Cities around the county are eager to attract industry players, with 24 brewers currently located in North County along the state Route 78 corridor, and 37 firms operating south of state Route 56 in San Diego and South County.
The local beer industry will likely continue to require more space for several years down the road, since it appears to have elements required to sustain it as a long-term revenue and job creator. Davis noted that the industry attracts a high number of self-starting entrepreneurs, many of them starting new careers after founding and selling previous companies in other industries.
San Diego is also home to White Labs Inc., led by biochemist Chris White and wife Lisa, which makes beer yeast and also provides crucial testing services to local brewers looking to hone their recipes. Davis said that kind of access to local testing services is not available to most U.S. craft brewers.
Creating a Cluster
"It's almost like what happened with biotech," Davis said, of the local business support climate. "You have something that's almost like an industry cluster with craft brewing."
And unlike what has happened in the biotech and pharmaceutical industries as locally based firms grew larger, craft brewers that started in San Diego County have so far tended to stay here. "It's a little harder with craft beer to buy a local brand and try to move it somewhere else," Davis said.
Three local players — Stone Brewing Co., Ballast Point and Karl Strauss Brewing Co. — are now among the nation's 50 largest craft brewers. Others continue to grow their regional and national presence, including Pizza Port, AleSmith, Green Flash and Coronado Brewing Co.
Escondido-based Stone Brewing, which recently opened new craft-brew restaurant and retail locations in San Diego, has announced plans to invest $26.6 million over the next several years in its local expansion, creating 250 permanent jobs.