Soitec Completes San Bernardino County Plant; Solar Modules Were Built in San Diego
Saturday, July 13, 2013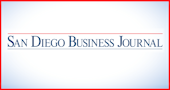 French company Soitec Solar Development LLC has completed the construction of its Newberry Solar 1 power plant in San Bernardino County.
Renewable power generated by the plant will be sold to Southern California Edison under a 20-year power purchase agreement. The company said it is the largest concentrator photovoltaic power plant in California, using Soitec solar modules built in its San Diego manufacturing plant.
"This announcement represents a major milestone for Soitec in establishing its newest generation of CPV technology and a critical step in our ambitious deployment plans in the region," Gaetan Borgers, executive vice president of Soitec's Solar Energy Division, said in a statement. "Newberry Solar 1 is the first solar power plant constructed in the U.S. with our most advanced CPV modules shipped directly from our new San Diego manufacturing facility."
The San Bernardino plant has the capacity to provide 500 Southern California homes with clean, renewable energy while offsetting nearly 2,300 tons of carbon dioxide each year, the company said.
The Soitec solar power module-producing plant in San Diego employs about 180, with plans to double, the company said.
— SDBJ Staff Report