COMMENTARY
The Port Holds the Key to Greater Prosperity
Monday, July 8, 2013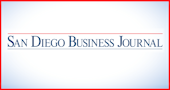 "Blue economy," "aqua economy," "blue-tech," maritime industry, export initiatives: You probably hear one or more of these on a regular basis. With so much recent interest in our working waterfront, it seems like we are just "discovering" our port's enormous economic development potential.
Perhaps a more accurate characterization is that the region is "rediscovering" our port as one significant place to focus as we recover from the Great Recession.
The San Diego Unified Port District manages one of our greatest natural assets — the tidelands around San Diego Bay — and is an exceptional economic development partner, a vital regional agency and a responsible environmental steward.
Why is everyone from Mayor Bob Filner to Chairman of the County Board of Supervisors Greg Cox to the nationally renowned Brookings Institution eyeing our port? Simply put, as the San Diego Regional Economic Development Corp. (EDC) can attest, because the port is "opportunity central" today.
Vital Part of Region
How important is the port to San Diego? You could make a solid case that there would not be a San Diego without its naturally protected, deep-water harbor. When Juan Cabrillo sailed into what is now San Diego Bay in 1542, he recognized its incredible value.
Over the next four centuries, San Diego grew up around its harbor.
Because of its port, San Diego built up a U.S. Navy presence that is today a lion's share of the largest military complex in the world.
San Diego defends its military sector just as our military defends our nation because we recognize its vital importance. The port district is a key partner with the U.S. Navy.
Consider the other economic development opportunities that can only take place in a port — cargo/goods movement, cruise ship business, commercial fishing, recreational boating, underwater robotics and various other facets of technology and science, all of the waterfront attractions and hotels and restaurants, and more. If San Diego did not have its port, the region would be much less of a place.
Our maritime industry, which also would not exist without ongoing partnership between the Unified Port District and other entities, is a sleeping giant. In 2009, the EDC — in conjunction with the Unified Port District, the City of San Diego and the World Trade Center San Diego — released a "Maritime Economic Impact & Cluster Analysis."
The report estimated total revenues from maritime work (not including the military) to be more than $7 billion per year, with employment of nearly 28,000 workers in that cluster.
Last year, a "San Diego Maritime Industry Report" sponsored by the EDC, San Diego Workforce Partnership and The Maritime Alliance calculated that 46,000 people work in the maritime industry and that direct-spend revenues alone are slightly more than $14 billion.
Blue Economy's Impact
On July 11, a major program on the blue economy titled "Maritime on the Midway" will feature a panel of experts including Mayor Filner, San Diego Regional Chamber of Commerce President and CEO Jerry Sanders, Vice Chair of the Board of Port Commissioners Bob Nelson, Maritime Alliance President and CEO Michael Jones, Dealy Development President and CEO Perry Dealy, and me. This will be a high-level, high-stakes look at the blue economy's impact on the region's employment, economic health and commercial real estate.
Obviously, something big is going on at our port. And even though the port district was disproportionately impacted by the recession and other factors — with sharp decreases in cruise, cargo, and leisure and entertainment — something even bigger is brewing.
San Diego is today demonstrating what my organization has long known — economic development happens best when we work together to leverage our strengths.
An outstanding example is the collaboration between the Brookings Institution and a bevy of local organizations to develop a regional program to boost exports, create jobs and grow the regional economy.
Who is working together? The mayor and a key councilmember from San Diego, U.S. Commercial Service, UC San Diego, Tijuana Economic Development Corp., the EDC, San Diego Regional Chamber of Commerce, Biocom, Connect, World Trade Center San Diego, San Diego County Regional Airport Authority and San Diego Port District.
By summer, this extraordinary collaborative will release a strategic, regional export plan that will highlight the importance of two of our most important economic development partners the port and the airport.
Capacity for Change
As just one illustration of the opportunity at our port, consider the throughput (import and export volume) of the port's two cargo terminals — Tenth Avenue Marine Terminal and National City Marine Terminal. Total estimated capacity is about 6 million metric tons and current volume totals about 3 million metric tons (down since 2006-2007 due to the recession). That leaves about 3 million metric tons of capacity.
While these are very rough figures because our two terminals handle a variety of cargo with various tonnage calculations, they show the opportunity. The region has the ability with its current infrastructure to increase imports and exports. As with most U.S. ports, our import volume is greater than our export volume, so we have more ability to grow exports.
How do we do that? That is precisely one of the key questions being addressed in the Brookings Institution Metropolitan Export Exchange Program.
The overall maritime industry, and import-export business and opportunity, bodes well for our region, but why is the port district an essential partner to grow our economy? Only a Unified Port District can leverage all activities that are all along San Diego Bay. Numbers can be boring, except to mathematicians, engineers, CPAs and those of us in economic development. But a few interesting numbers help tell the port story.
The Unified Port District manages 33 of the 54 miles along San Diego Bay, holding the tidelands in trust for the people of California. Only military and county bay-front holdings are exempt from port jurisdiction.
In calendar year 2011, the port was responsible for direct economic output of $3.7 billion generating more than 28,000 jobs. That's at the tail end of a recession with nothing but opportunity ahead of us.
Bay-Front Development
One of the biggest economic development projects in the region is now underway in Chula Vista. Thanks to unprecedented collaboration between the port district, City of Chula Vista and a broad range of stakeholders including environmentalists, the 535-acre Chula Vista Bayfront Master Plan was approved by the California Coastal Commission last August. The port is currently seeking potential investors (including direct foreign investment) and has engaged a consultant (Jones Lang LaSalle) to prepare an overall development and financial strategy.
Implementation will comprise four phases over 24 years. The first phase will include constructing the resort conference center, creating public parks and open space, restoring habitat areas, and building a new fire station, RV park and mixed-use residential development. Construction for the first phase could begin as early as 2016.
I hope this article makes clear what I and the San Diego Regional EDC know and espouse — that the San Diego Unified Port District is a vital economic development partner that is stepping up to help us realize a growing, vibrant, sustainable economy for the long haul.
Mark Cafferty is president and CEO of the San Diego Regional Economic Development Corp.