ENERGY: UCSD PROJECT BLENDS COLLECTION AND STORAGE
Maxwell, Soitec Become A Green Power Couple
Monday, July 8, 2013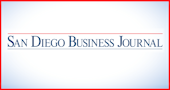 In a proverbial 'build a better mousetrap' maneuver, two San Diego companies are joining forces in a demonstration project to create a more efficient solar energy system.
Maxwell Technologies Inc., a maker of energy storage devices called ultracapacitors, and Soitec Solar, a division of France-based Soitec SA, are participants in a project located on the campus of UC San Diego, which operates its own power grid.
By combining Soitec's concentrated photovoltaic panels with Maxwell's ultracapacitors, along with a solar forecasting system developed by UCSD researchers, the hope is the resulting system will prove to be more efficient and scalable, the companies said.
"This is the first time that all three of these elements have been combined," said Clark Crawford, Soitec vice president, sales and business development. "This is a way to increase the penetration of solar onto the grid."
Standby Energy Source
Mike Sund, a Maxwell spokesman, said ultracapacitors attached to the concentrated photovoltaic panels will act as a standby source of electrical energy during brief periods when the solar energy isn't flowing smoothly.
Ultracapicitors are energy storing devices that release energy in quick bursts and recharge quickly. The devices' charging and recharging prowess and ability to function in extreme temperatures make them an attractive alternative to batteries. The products are installed in hybrid buses, wind turbines, and cars.
For the nine months ended Sept. 30, 2012, Maxwell reported $124 million in revenue. The company stopped reporting results last year after it uncovered accounting irregularities related to improper booking of sales.
Sund said the demonstration project seeks to prove the combined solar CPV system works and can be applied to other renewable types of energy including wind.
"Naturally, to the extent we can provide the enabling technology and make these systems work better, it's better for us," he said.
$1.39M Funding
The project launched last month and runs through November 2015. It's being funded from a $1.39 million grant from the California Energy Commission's Research and Development program.
The UCSD part (which involves a 22 kilowatt system) is the first phase on the project. Next year, the new solar panels will be installed in a larger array at one of three possible sites determined by Soitec, including an existing commercial solar farm near Barstow, Crawford said.
An independent evaluation of the performance of the new panels will be done by DNV KEMA under a subcontract with Maxwell.
Soitec's CPV production plant in Rancho Bernardo opened in December following an extensive search by the company. Soitec received a federal grant of $25 million from the Department of Energy last year.
Last month, the company's development plans for East County were certified by the state as an Environmental Leadership Development Project, one of only three to obtain this designation.
Projects receiving the designation are able to streamline the disposition of any lawsuits aimed at stopping them, Crawford said.
Solar Farm Construction Plans
Soitec filed plans with San Diego County to construct four solar farms in the area that would generate 125 megawatts of electrical power, enough to power about 45,000 homes. The company said the total capital investment into these farms is $469 million, and will result in hundreds of temporary construction jobs and 30-40 permanent jobs.
The plans are expected to come before the County of San Diego Board of Supervisors in April 2014.
Soitec invested about $150 million into retrofitting the Rancho Bernardo plant formerly owned by Sony Electronics, which manufactured Vaio laptops and other products there. The local plant now has about 180 employees. But at full production capacity, which is expected by the end of this year, the staffing should number 450 people, Crawford said.
The jobs being created at the plant are highly skilled, and include computer engineers, and other technical positions requiring either college degrees or experience in such fields, Crawford said.
Soitec SA reported 2012 revenue of $342 million, down by 19 percent from 2011 revenue. It reported a net loss of $273 million compared to a net loss of $73 million in 2011.