San Diego-Based EcoATM Sells for $350M
Wednesday, July 3, 2013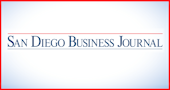 EcoATM, the San Diego business that operates automated kiosks that recycle unwanted electronic devices, was acquired by Bellevue, Wash.-based Outerwall, formerly known as Coinstar, for $350 million in cash, the companies said.
Outerwall is well aware of EcoATM's business, having invested in the company in two venture capital rounds in 2011 and 2012. The public company, which makes automated machines that provide cash for loose change, owns 23 percent of the San Diego business.
That stake will be subtracted from the purchase price, and Outerwall will own all of EcoATM once the transaction is completed, expected in the third quarter.
Founded in 2008, and one of the more successful startups to come out of the region's CommNexus incubator, the company raised a total of about $42 million in venture funding, including a $17 million round last year in which Coinstar was a lead investor.
EcoATM was said to be the first company to create an automated, self-service system that collects cellphones, tablets and MP3 players. The machines use patented, advanced machine vision and artificial intelligence to evaluate the used devices, and provide owners with an immediate cash rebate.
Scott Di Valerio, Outerwall's CEO, said the acquisition will advance the company's evolution into multiple automated retail businesses and increase its exposure to the growing demand for refurbished products and mobile devices around the world.
The transaction is expected to be accretive to Outerwall's earnings in 2014, the company said.
Tom Tullie, EcoATM's CEO, said the sale should accelerate the company's rollout nationally. The company will keep its headquarters in San Diego.
— Mike Allen