La Mesa Apartment Complex Sold for $17.8M
Tuesday, July 2, 2013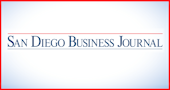 Investor Yoshiteru Kawase has purchased the 110-unit Vista Amaya Apartments in La Mesa for $17.8 million.
The property is at 5810 Amaya Drive and was fully occupied at the time of sale, according to a statement from brokerage firm CBRE, which represented the seller, Vista Amaya Ltd.
The 5.17-acre apartment community was built in 1971. The seller recently completed more than $400,000 in capital improvements to exterior and common areas, along with interior renovations to 28 of the units.
CBRE officials said large multifamily transactions have been rare so far this year in the San Diego region.
"There have been only five multifamily properties over 100 units sold in 2013, compared with 14 through the first two quarters of 2012," said CBRE Senior Vice President Eric Comer. "Multifamily owners in San Diego are holding on to their large assets due to low vacancies, solid rent growth and rising home values that are making it difficult for renters to purchase homes."
— SDBJ Staff Report