BIOTECH: MEDICINE IS GIVEN CLEAN SHOT WHILE AVOIDING IMMUNE RESPONSES
Targeted Drug Delivery System Puts Cancer in the Cross Hairs
Monday, July 1, 2013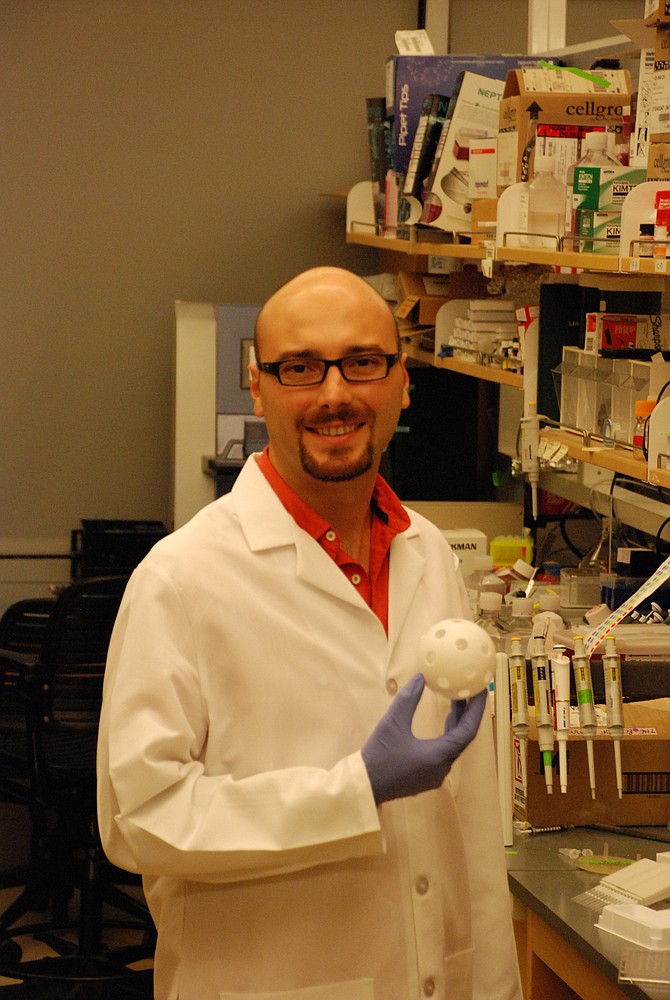 Cage-diving wiffle ball nanotechnology — that's how Inanc Ortac, a graduate student at UC San Diego, describes his award-winning approach to cancer therapy.
Ortac's company, called DevaNano Inc., has developed miniature cages made out of silica — a component of glass — that encapsulates cancer drugs, rendering them safer in terms of preventing hideous side effects associated with cancer.
"With our nano-wiffle-ball technology, we expect that the side effects to chemotherapy can be greatly reduced, the efficacy of the therapy can be increased, and the quality of life of patients can be improved," Ortac said.
The technology offers a new approach for delivering cancer drugs just to the areas where the drugs are needed. This kind of targeted drug delivery minimizes collateral damage to noncancerous cells.
Ortac recently won the UCSD Entrepreneurship Challenge, receiving $20,000 in prize money as well as branding and marketing support, and intellectual property advising from global law firm DLA Piper. More than 300 UCSD students competed in last month's contest.
But this isn't the first time Ortac's come in first. His invention won the grand prize last November in the prestigious 2012 Collegiate Inventors Competition — a contest that draws hundreds of undergraduate and graduate student inventors from around the country.
'Dazzled a Panel of Judges'
"It dazzled a panel of judges that included Marcian E. Hoff, co-inventor of the microprocessor, Alois Langer, co-inventor of the implantable cardiac defibrillator, Thomas Fogarty, inventor of the balloon catheter, and Donald Keck, inventor of fiber optics," said Forbes Leadership Editor Frederick E. Allen, who served on the judging panel that deemed Ortac a winner in the 2012 competition.
These cancer-busting wiffle balls have been his Ph.D. project for more than six years, Ortac said. He formed DevaNano last year, and serves as its chief technological officer. The early stage company employs four. It has licensed some of its technology, but is working to further secure its intellectual property.
He plans to bring the technology to market with help from his UCSD adviser, Sadik Esener, and with the company's CEO, Gokce Abe Yayla. The company is still doing animal trials, but has plans to progress to clinical trials over the next few years.
"One of the exciting applications of nano-wiffle-balls technology is their use to deplete tumor nutrients, which will make them particularly useful for blood cancers and certain solid tumors," Esener said.
Another application is in HIV-related cancers, which the team is investigating with a professor at the UCSD Moores Cancer Center.
Ortac outlined the way in which his technology could help chemotherapy in particular: The mutations associated with cancer cells prevent them from producing certain substances called amino acids that they require, Ortac said. Normal cells can produce them, however, and can survive independently — but cancer cells can't, so they starve to death and die. Certain drugs reduce the amount of these amino acids in the blood stream, effectively killing the cancer.
Alleviate Side Effects
But there are often terrible side effects associated with chemotherapy, which Ortac's technology hopes to help alleviate.
If one introduces new enzymes into the blood, it creates a huge immune response that causes a severe allergic reaction. The proteins that protect the body from invading substances — like cancer medication — are called antibodies.
"Our bodies have evolved to protect us from harmful germs," Ortac said. "Now, what we're doing is basically using a foreign protein to cure cancer — but our immune system's antibodies react to that, and try to protect cancer from our therapy."
So that's where the shark barrier analogy comes in.

"When a diver is in the shark cage, the shark can't go through the cage and access the diver," Ortac said. "However, small fish can still go between the bars and access the diver."
Like the analogized shark, the antibodies, which are large molecules, can't access the medication. But the small fish — the cancer-feeding enzymes — will bind to the medication, ultimately reducing side effects for the patient.
"That's our main advantage — it's hugely controllable. We can control the size, the porosity, and the concentration of the enzymes inside the silica nanoparticles," Ortac said. "Since we have the ability to load these enzymes in a hollow cage, made of a negligible material, these dangerous cancer medications become exponentially less toxic."