HOSPITALITY: EXPERTS SEE INVESTORS, FAVORABLE FINANCING FUELING DEALS
There Is Room for Improvement Following 2012's Hotel Sales
Monday, January 28, 2013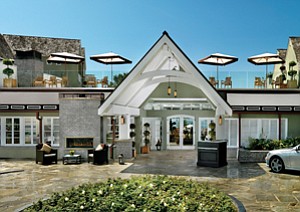 San Diego County's hotel investment sales trends checked back into historical reality in 2012, following a 2011 series of high-profile trophy acquisitions that pushed local deal volume for that year well above $1 billion.
"The past year was more of a normal year than 2011," said Alan Reay, president of hotel brokerage and consulting firm Atlas Hospitality Group.
According to Atlas, the San Diego region in 2012 posted 28 hotel property sales with a total value of $590.2 million, amounting to $67,500 per room.
That was down from the 42 properties sold in 2011 for a total topping $1.8 billion, or $84,491 per room. The caveat is that 2011 saw some of the region's largest hotels change hands, primarily in the first half, led by the Manchester Grand Hyatt San Diego ($570 million) and Hilton San Diego Bayfront Hotel ($475 million).
Still in the Top 20
Reay said the San Diego region ranked third in the nation for 2011 hotel deals, behind New York and Los Angeles, and likely ranked much further down the list of major U.S. markets in 2012, though still in the top 20.
For 2013, Reay estimates that local transactions will improve on last year's performance, reaching $700 million to $750 million. Sales volume will likely be helped by the region's strong hotel fundamentals, combined with an active pool of investors aided by low-rate financing.
A range of potential buyers nationwide is scouting hotels, including real estate investment trusts, institutional investors, and others backed with private equity. Financing rates for well-capitalized buyers are still hovering around a historically low 4 percent in the hotel market, Reay said.
Investors in China and other Asian markets have recently shown heightened interest in coastal markets, adding to a bidding environment where prices on properties will likely be rising, he said.
Research firm STR, previously known as Smith Travel Research, recently reported that U.S. hotel investment-sales volume in 2012 dropped 35 percent from the prior year, to $12.5 billion. Factors included a slowdown in buying by the large real estate investment trusts that dominated transactions in 2011.
For the coming year, STR expects investments nationally to be helped by a climate where the hotel industry improved its performance on most major metrics in the past 12 months. Revenue per available room (RevPar) rose 6.6 percent, average daily rates were up 4.3 percent, and occupancy increased 2.5 percent, to 61.3 percent.
The San Diego region generally tracked ahead of national trends, with RevPar up 8.8 percent, daily rates up 5.2 percent, and occupancy up 3.5 percent year-over-year through the end of November. The local region's total hotel room revenue was also up 8.9 percent, compared with 7.2 percent for the national market.
Local properties sold during 2012 included downtown's Westin San Diego ($122.8 million), Courtyard Mission Valley San Diego ($90 million), L'Auberge Del Mar Resort & Spa ($76.9 million) and Marriott San Diego Del Mar ($66 million)..
Properties known to be currently up for sale include Hilton Garden Inn Carlsbad Beach, downtown's Sheraton Suites San Diego, and Borrego Springs Resort and Country Club.