HEALTH IT: RAND CORP. REVISES POTENTIAL FOR EHR COST SAVINGS DOWNWARD
Region Takes Leading Role in Using Electronic Health Records
Monday, January 28, 2013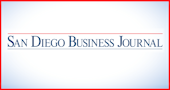 Electronic health records haven't achieved the health care cost savings that were initially expected, according to a new analysis from the global policy think tank RAND Corporation. But there's a notable exception: San Diego.
"I think San Diego has enormous potential to serve as a model for what other metropolitan areas can accomplish if health systems play together and are aot always at everyone's throats," said Art Kellermann, a co-author of the paper, which was published this month in the journal Health Affairs.
Kellermann said that San Diego's hospitals, as competitive for patients as any major market health system, have managed to cooperate when it comes to sharing health records electronically.
The RAND Corp. released an optimistic report in 2005, forecasting that EHRs could save the U.S. health care system $81 billion a year or more. This fueled massive growth in the EHR industry and played a role in the Obama administration spending billions of dollars of federal stimulus money to incentivize health systems to adopt the new record-keeping systems.
But RAND now says that figure was too high.
"Although the use of health IT has increased, the quality and efficiency of patient care are only marginally better," the paper said.
Making Strides in Health IT
Except for San Diego. Kellermann said that all of the hospitals locally have begun taking strides towards using EHRs. Kaiser Permanente has done a particularly good job of managing health care records from an early date.
"They have done better than most systems at beginning to leverage the systems of health IT," Kellermann said. "They've really taken advantage of leveraging interconnectivity — allowing patients and doctors to communicate, and doctors to access really robust medical records.
Kaiser's system was purchased in 2003 from Verona, Wis.-based Epic Systems Inc., a pioneer in EHRs. It cost about $4 billion during the course of five years to get the system running, said John Mattison, chief medical information officer at Kaiser Permanente, who spearheaded the project.
The system now connects nearly 16,000 physicians across 37 hospitals — and the records of more than 9 million members.
"The difference is that Kaiser began taking steps to computerize health records in the 1960s — decades before it was even a thought in most hospitals," Mattison said.
And it's beginning to pay off. In an internal study of 46,000 patients in Northern California over the age of 30, the heart attack rate declined 24 percent. It also has reduced the mortality rate of sepsis, a life-threatening infection, by 40 percent since 2008. The organization hasn't put a dollar figure on the money saved, but the system's working well, Mattison said.
Complications With Sharing Data
But Kaiser still has to deal with data sharing when patients in its network visit hospitals outside of its system. This leads to holes in records and even duplicate accounts, which are the single biggest challenge for EHRs to work successfully, Mattison said.
This is where the San Diego Beacon Community project comes into play: Launched in 2010 with a $15.3 million federal grant, San Diego was one of 17 communities nationwide participating in Beacon, an initiative from the Office of the National Coordinator for Health Information Technology to demonstrate how IT could measurably improve the health of a region.
Kaiser has linked up with the UC San Diego Health System, Rady Children's Hospital – San Diego and the VA San Diego Healthcare System, and Scripps Health and Sharp HealthCare are expected to come on board soon as well.
"San Diego has a fantastic medical community, and the different providers are really coming together to make interconnectivity a reality," said Anupam Goel, co-principal investigator of the San Diego Beacon Community. "But health care is a little different — the industry hasn't had EHRs long, and haven't done a great job separating discrete information from actual information. The rules around data sharing are still maturing."