MARKETING: AIRLINER AND FIRM SHARE CHARITABLE AND DEMOGRAPHIC INTERESTS
MOGL's Rewards Program Is in Virgin Territory
Monday, January 28, 2013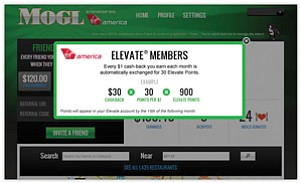 After winning over a crucial customer for its tech-enabled restaurant rewards program — billionaire Sir Richard Branson — locally based MOGL has landed Virgin America Inc. as its first airline partner.
"He liked the game-ified and ease-of-use aspects of this, and he also very much liked the philanthropic aspect of MOGL," said CEO Jon Carder, recalling his visit last year to Branson's privately owned Necker Island, in the British Virgin Islands.
San Diego-based MOGL and Virgin America, with headquarters in San Francisco, recently began a program in which MOGL became the dining rewards partner in Virgin America's Elevate program, where customers earn points toward flights with the carrier. The airline's loyalty rewards program previously involved several global hotel, retail and rental-car brands, but no dining-focused partners.
The two-year-old MOGL (not an acronym but a play on the word "mogul") avoids the use of coupons and loyalty cards, letting restaurant patrons sign up for free on its website or mobile app, by providing information on the debit or credit card they plan to use when dining out.
When diners use the card at participating eateries, they are issued a 10 percent cash back reward, through arrangements that MOGL has with major card issuers. Customers receive email notifications from MOGL updating them on their savings in a given month, and participating eateries award regular cash jackpots to the top diners using the program.
Deals and Meals
For each $20 spent by participating customers, MOGL donates a meal to Feeding America, a prominent domestic hunger-relief organization. The company recently announced that it donated 200,000 meals to the program during the month of December.
Phil Seward, director of guest loyalty for Virgin America, said the company was impressed by MOGL's quick rise in its user base, now a reported 100,000 consumers at more than 1,000 California eateries, including 800 in San Diego County. The program also requires no extra effort by diners or restaurant staff to process deals, beyond the credit card transaction.
Seward said MOGL reaches a range of establishments with customer demographics similar to Virgin's, including high-end restaurants, fast-casual eateries and coffee shops. A big plus, he added, was the local company's work in aiding hunger prevention, a cause near and dear to the entrepreneur and philanthropist Branson and his various business entities.
"We thought it was important to have a program where we rewarded our customers, but also to give them an opportunity to give to a worthy cause, which is also one of our priorities as a company," Seward said.
Branson is founder and chairman of London-based Virgin Group Ltd., which is a 25 percent owner of Virgin America Inc. The airline, which began service in 2007, has its hub at San Francisco International Airport and serves 20 destinations, including San Diego.
In the new partnership, Virgin America Elevate members who sign up for MOGL get 30 points for each $1 cash-back when dining out at MOGL restaurants, and MOGL members can sign up with Virgin America Elevate and choose to receive their cash-back in the form of Elevate points. Information is at Virgin.MOGL.com.
Arrival Time for Profitability
The privately held MOGL has received more than $12 million in funding from major Texas and California venture capital firms since its 2011 debut. While it does not disclose revenue, Carder said it is on the verge of reaching profitability within the next year.
In coming months, it will be looking to hook up with more travel and dining-oriented companies, and aiming to make further inroads at education facilities. Carder said the company recently entered into a partnership with San Diego State University, which is putting MOGL in place at eight on-campus dining venues.
"They have thousands of students, and they are always looking for creative ways to get people to eat at their on-campus restaurants," Carder said.