RETAIL: SHOPPING HUBS 'MAKE A SCENE' THROUGH RENOVATIONS
Creating Centers of Attention
Monday, January 28, 2013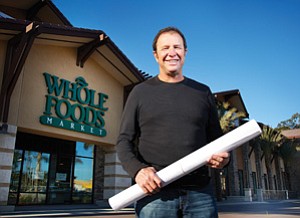 Jeffrey Essakow likens the recent local wave of big-money retail center renovations to the shakeup that occurred when Tiger Woods began dominating the pro golf circuit a decade ago.
"It forced all of the other players to improve their game," said Essakow, CEO of Protea Properties LLC of La Jolla, which owns the newly renovated Flower Hill Promenade in Del Mar.
The 35-year-old center's operators have invested in their own $30 million response to a multimillion-dollar series of competitive makeovers at some of the region's most popular shopping and dining hubs over the past two years, including Fashion Valley, Del Mar Highlands Town Center, and Westfield UTC.
Where an aging movie theater once stood near Interstate 5, Flower Hill now sports a soon-to-open Whole Foods grocery store. Right above the 30,000-square-foot Whole Foods, Sharp Rees-Stealy later this year will open a branch medical center serving the local community.
Behind the Whole Foods is a recently finished, 430-space parking structure, tucked into an adjacent hillside and barely visible from surrounding roadways, designed in response to concerns among city planners and residents wanting the center to retain a neighborhood look and feel.
The center has added 70,000 square feet of retail space, bringing its total to more than 173,000 — expected to be around 95 percent occupied by spring. Operators said the expansion's economic impact, once all tenants are up and running, will include the addition of 206 jobs, bringing full-time employment there to 526.
Local Flavor
The tenant roster maintains a decidedly local flavor, with several recent and upcoming additions including stores and restaurants based in San Diego County, such as Burger Lounge, Urban Solace and Cucina Enoteca. The latter, from the operators of Cucina Urbana, will fill a vacated Chevy's restaurant space by midyear.
Even a Mobil gas station on the property has had its convenience store updated to reflect the rest of the center's new contemporary look, and reconfigured walkways throughout the open-air property are filled with palm trees, shaded tables and other seating geared to relaxing and socializing.
"You don't want people just dashing into a store and then heading home," said Essakow, during a recent tour of the nearly completed Flower Hill Promenade makeover. "You want to give people reasons to spend time on the property."
At a recent retail gathering in Carmel Valley, presented by the International Council of Shopping Centers, experts pointed to "Eater-tainment" as a driving concept for local and national retail developments and improvements. In an age increasingly dominated by online shopping, elements such as social spaces, nonchain stores and restaurants, and movie theaters with their own dining and lounge areas are deemed crucial to attracting consumers to retail centers.
"The national retail companies will continue to be important, but you need (as tenants) people who know the local market, who know the local customers," said Adolfo Fastlicht, a principal with Cinepolis Luxury Cinemas, which has theaters in Carmel Valley and Carlsbad.
Robert Graham, senior vice president with Westfield Group, which operates seven San Diego County malls, said "Eater-tainment" has been a big part of the company's recent renovations at Westfield UTC and its Westfield North County in Escondido, both of which have added or are in the process of adding several new restaurants. Large-scale improvements and tenant additions are on the way later this year at Westfield Plaza Camino Real in Carlsbad.
Significant Upgrades
Over the next two years, major improvements will be under way at Westfield Horton Plaza in downtown San Diego, where the retail operator is working with the city to build a new public square plaza adjacent to the mall for community events and social gatherings. Graham said that center when completed will have at least three new food pavilions serving the mall and the public park.
Improvements are also being made by other large national companies that have recently expanded their San Diego footprints through high-profile acquisitions of existing neighborhood retail centers.
Florida-based Regency Centers, for instance, has plans for significant upgrades at the mixed-use Uptown District Shopping Center in Hillcrest, which it recently purchased for $81.1 million. Much of the center, currently anchored by Ralphs and Trader Joe's among other prominent tenants, was built in the late 1980s, and Regency plans improvements to facades and on-site amenities beginning later this year and continuing for the next 24 months.
"You've just got to keep your product up to date," said Gregg Sadowsky, senior vice president and senior market officer for Regency, who is based at the company's Solana Beach regional office.
Sadowsky said new retail center construction has become rare in high-demand coastal markets like San Diego. Even on the acquisition side, it is hard to find community-oriented centers in urban areas that have two grocery anchors, ample on-site parking and a built-in customer base of residents living in the development's 300 on-site condos.
Those shoppers add to hundreds of other daily visitors to Uptown District who prefer walking and bicycling to the center and have made it a hub of local social life.
"Those are huge assets," Sadowsky said. "These kinds of properties are very hard to find in San Diego County."
Retail Development Rare
The rarity of new retail development in San Diego County has prompted much of the recent local redevelopment and acquisition activity. Like other retail deals in the region, Regency's Uptown District purchase was an off-market transaction — the property was not officially listed for sale by the prior owner.
The Hillcrest purchase was San Diego County's largest retail property deal of 2012, according to brokers at The Mansour Group of Marcus & Millichap, and followed closely after Regency's $59.5 million purchase of the Vons-anchored Balboa Mesa Shopping Center in Clairemont.
Regency now owns 11 shopping centers in the region, and also has community-oriented upgrades in the works at Balboa Mesa as well as its El Norte Parkway Plaza in Escondido.
Howard Overton, Regency's vice president of transactions for the Western Region, said the company will continue to scout local acquisition opportunities that fit its nationwide priorities.