Quake Global Acquires RFID Solutions Designer ODIN Technologies
Thursday, January 24, 2013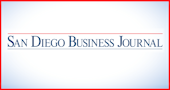 Quake Global Inc., a maker of satellite tracking and monitoring devices, said it acquired ODIN Technologies Inc. of Washington, D.C. for an undisclosed price.
ODIN is a designer of RFID solutions for the health care, government, asset management, and other industries.
Polina Braunstein, Quake's CEO, said the acquisition is an important milestone toward achieving the company's goal of becoming the world's foremost provider of RF M2M technology hardware and services at all levels. RF M2M refers to radio frequency, machine to machine.
"Both Quake and ODIN have extensive proven experience in their given areas and this combination allows us both to gain access to complementary expertise that will be extremely useful in developing new markets as well as in expanding our current markets," Braunstein said.
—SDBJ Staff Report