S&P Boosts Housing Commission's Debt Rating to AA
Wednesday, January 23, 2013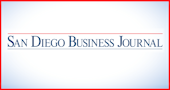 Standard & Poor's Rating Services issued an AA rating on debt by the San Diego Housing Commission, bumping it up two notches from the prior rating of A+.
S&P gave the city agency high marks on its creditworthiness, and cited its "extremely strong overall management and strategic plan that supports the commission's mission to provide quality low-income housing."
The report also cited the significant need for affordable housing in San Diego, and a very strong financial profile due to its strong debt and liquidity position.
In 2009, SDHC changed from being part of the federal public housing program to a private sector affordable housing real estate model.
The change allowed SDHC to better use revenue from 1,254 of is 1,366 apartment units previously under the control of the Department of Housing, according to the S&P report.
Richard Gentry, SDHC's president and CEO since 2008, said he was pleased by the latest S&P report "because it validates our financial strategy to create more affordable housing, which has made great use of public-private partnerships while minimizing financial risk."
— SDBJ Staff Report