Software San Diego Executive Director Steps Down
Tuesday, January 22, 2013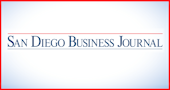 Bob Slapin, who headed up Software San Diego for about 12 years, resigned from his job as executive director but continues as a director.
"It was just time for me," Slapin said. "I'm still on the board and still friendly with everybody on the board."
Slapin joined what was formerly called the San Diego Software and Internet Council in 2000 as a board member and later became its executive director. The group changed its name to Software San Diego this month.
"I've been here 12 and half years and that's the longest I've been in any job in my life," he said.
Slapin said his leaving was a mutual decision by the board and himself, and there aren't any hard feelings.
Tom Clancy, Software San Diego's chairman, said the organization is changing its focus, and not putting on as many events this year. Last year the group did about 25 events, some of which didn't draw very well, he said.
"We're de-emphasizing smaller events and spending more time on advocacy and doing larger trade events," he said.
The group expects to put on three to four events this year including CIO Forum and Super Data Summit.
The board is still mulling whether to find a replacement for Slapin, but will likely bring in someone, Clancy said.
An attorney, Slapin was in the software business for about 10 years before joining the trade group. He co-founded Blue Chip Software, and was among the first employees of Dycam, the first makers of digital cameras before licensing was sold to Logitech, he said.
While the software industry is robust and growing rapidly here, Slapin said pinning down a definite number of businesses within the sector is difficult because so much of software is embedded in so many disparate industries.
Clancy said using a 2010 U.S. Census report, there are more than 50,000 software professionals working here.
The group did a report last year that estimated the number of job openings within software at about 2,000. Many of the companies with openings expressed some difficulty finding qualified applicants for the jobs, according to a recent study by the San Diego Workforce Partnership.
— Mike Allen