EMPLOYMENT: BRINKER, BULLYING, COMMISSION SALES ARE AMONG CHANGES
Employment Law in 2013
Monday, January 21, 2013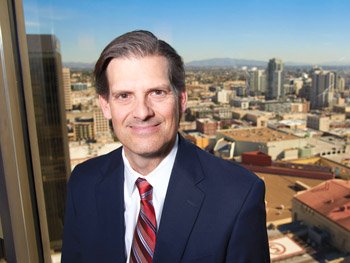 California has a tradition of dumping a number of new employment laws on employers to begin each year. 2013 is no different, despite the Brinker decision, which clarified for employers wage and hour regulations. Written commission plans, protected work dress and grooming, access to personnel files — in addition to growing litigation around social media and employer discrimination — will keep San Diego's employment attorneys busy this year, leading employment attorneys say. Employees who are bullies might be your next lawsuit, too, they advise.
Written Commission Plans
The California Labor Code was amended to require that nearly all compensation arrangements that included payment of commissions be in writing. Previously, only commission agreements with out of state employees had to be reduced to writing, said Jennifer Kearns, an employment attorney and partner at Duane Morris LLP. "The governor signed a bill (in September) which narrowed the definition of 'commissions' and exempts 'temporary, variable incentive plans that increase, but do not decrease, payment under the written contract.' Employers should review anything that might be considered a 'commission.' "
The new law also repeals the provision for tripling damages, which is good for employers, said Michael Kalt, a partner at Wilson Turner Kosmo, a highly-regarded San Diego litigation firm that has a large labor practice. "Employers are required to give a signed copy of the contract to every employee who is a party to it, and to obtain a signed receipt for the contract from each employee," he said. "As amended, this provision also states that when the contract expires and the parties continue to work under the expired contract's terms, the contract terms are presumed to remain in full force and effect until the contract is superseded or either party terminates the employment."
Employers who use a commission-only form of pay should carefully detail all aspects of the employment relationship, including vacation and sick pay, said Kalt, who also volunteers as the governmental affairs director for the California State Counsel for the Society for Human Resource Management (SHRM) and formerly was vice president-legislation for the San Diego Chapter of SHRM.
Dress policies
Effective Jan. 1, gender identity and gender expression were both added as protected classes to California's Fair Employment and Housing Act, which was amended to specifically declare that religious dress and grooming practices fall within the protected class of "religious creed" and that FEHA-covered employers must reasonably accommodate such religious dress and grooming practices, with limited exceptions.
"The amendment makes clear that segregating the individual who engages in a religious dress or grooming practice is not a reasonable accommodation," Kearns said. "Employers who have work dress and grooming policies should ensure that they are gender neutral and that the employer will reasonably accommodate religious dress and grooming practices unless such accommodation would result in undue hardship."
Brinker
The California Supreme Court decided in April that employers must provide a meal break, but "need not ensure that no work is done" on that break. The long-anticipated decision was important to employers because a contrary decision would have required employers to police their non-exempt employees during meal and rest breaks to make sure the breaks were taken and no work was performed during the break. On the related question concerning when meal periods must be provided, the court concluded a first meal break generally must fall no later than five hours into an employee's shift, but an employer need not schedule meal breaks at five hour intervals throughout the shift. On the question of rest periods, the court said employees are entitled to 10 minutes of rest for shifts from three and one-half to six hours in length, and to another 10 minutes of rest for shifts from six hours to 10 hours in length. Rest periods need not be timed to fall specifically before or after any meal period.
Discrimination suits continue
"In the area of employment litigation, we expect to see a continued focus on retaliation and disability discrimination lawsuits in 2013," said Gordon & Rees partner Christopher Cato. "Retaliation claims are often favored because they are viewed as easier to prove than actual discrimination or harassment claims. In essence, the employee has to establish only that he or she engaged in the protected activity, such as a complaint of discrimination or harassment, with a reasonable belief that some unlawful activity occurred, and that the protected activity was a motivating reason for an adverse employment action. The employee does not have to prove the complained of activity was actually unlawful."
Cato also anticipates a steady stream of wage-and-hour class actions, despite the Brinker decision, because this area of the law is so complex. "We also expect additional developments in the areas of e-discovery and cyber law, as courts and administrative agencies wrestle with how to handle electronic data, ever-changing technology, and the extent to which employers may regulate the use of social media by employees or use it to monitor employees," Cato said. "Overall, 2013 should be another busy year for employment lawyers."
Misclassification of An Employee
It is now unlawful for "any person or employer" to willfully misclassify an individual as an independent contractor, and not an employee. "The monetary penalties can be stiff — $5,000 to $15,000 for each violation, and if the state agency determines that the misclassification is part of a 'pattern or practice,' the monetary penalties ramp up to a minimum of $10,000 per violation, with a maximum of $25,000 per violation," said Duane Morris' Kearns. "Furthermore, a person or employer who has been found to have willfully misclassified workers as independent contractors will be required to post on an Internet page or prominently in the workplace a written notice, visible to the general public and employees, stating that the person or employer 'committed a serious violation of the law by engaging in the willful misclassification of employees.' Obviously, employers will want to avoid being required to make this posting (and paying the significant monetary penalties)."
The bad news for California employers does not end there. Labor Code amendments provide that an employer who knowingly and intentionally misclassifies workers as independent contractors is guilty of a misdemeanor and once convicted, can be fined up to $1,000 or imprisoned up to one year, or both (at the court's discretion). These criminal sanctions also apply to "any officer, agent, employee, fiduciary or other person who has the control, receipt, custody or disposal of, or pays the wages" of employees. "This could certainly be read to include CEOs or HR executives, and most certainly would include the person directly responsible for payroll," said Kearns. "However, an in-house HR person or an attorney who has advised the company to make such classification are not subject to the joint and several liability in the event that the employer is found to have misclassified."
Employees' Access To Their File
Another new law will have significant impact on all employers when they receive requests for personnel files from current or former employees. With the new year, employers must allow access to personnel files by a current or former employee or his or her representative. "Also, the statute outlines specific details as to the location for inspection and copying and imposes a penalty of $750 for noncompliance," said Jim Peterson, a partner at Higgs Fletcher & Mack LLP, and who is chair of the firm's labor and employment group. Peterson represents many notable companies both regionally and nationally and has been practicing labor and employment law in San Diego for 24 years. "Further, the employer must provide a copy of the entire file within 30 days of receipt of a written request, and maintain the personnel files for three years after the end of employment."

Social Media
The volume of laws and rulings that implicate social media will grow this year. Employers are now prohibited from requesting or requiring employees or applicants to disclose usernames or passwords for social media sites, and from requesting or requiring such persons to access a social media site in the employer's presence. But there are hidden issues. "An employer can request an employee to divulge social media which it reasonably believes is relevant to an investigation of employee misconduct, and employers can require disclosure of usernames or passwords to access electronic devices issued by the employer," Kearns said.
"And, several recent rulings of the National Labor Relations Board broadly construe social media postings by current or former employees to amount to protected concerted activity."
Peterson points out that the new law provides that an employer who requests the information but who does not discover or investigate a prospective employee's social media activity will not be subject to a claim for negligent hiring and preventing an employer from requiring employees to disclose username and password information for social media sites or employees and prospective employees.
These rulings can be read broadly enough to cover private, non-union employers, both Peterson and Kearns said. Employers should make sure that their policies are not worded in such a way that they could be interpreted to prohibit protected activity, for example, discussing working conditions or organizing efforts.
Bullying Is the New Claim
Workplace bullying is poised to become the next major battleground in employment law, said Madeline Cahill-Boley, managing partner at Sullivan Hill Lewin Rez & Engel.
"Think about sexual harassment claims of 25 years ago," she said. "Although there are no current federal or state laws prohibiting abusive work conduct absent attendant discrimination or workplace violence, numerous states have proposed anti-workplace bullying legislation. California was the very first. It is a developing area of employment law that is likely to create a broad cause of action for plaintiffs who will not need to be a member of a protected class in order to bring a claim."
Employee bullying will likely become the biggest driver for workplace disputes in the coming years because it creates causes of action for anyone who experiences conduct of other employees that is creating a hostile environment, even supervisors who feel intimidated or threatened by subordinates.
Educating managers on the changing legal standards of appropriate workplace behavior is important. Conduct that many may find harmless or routine could still expose a company to legal risk. Specific training on bullying, said Cahill-Boley, will pay dividends far into the future as California moves into this additional phase of employment claims and litigation.