Deadline Announced for the San Diego Business Journal's IT Executive Awards
Wednesday, January 16, 2013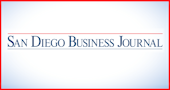 Nominations for the San Diego Business Journal's sixth annual Information Technology Executive of the Year Awards will close on Jan. 31. This awards program honors those key managers who use innovative efforts to build and manage complex digital infrastructures.
A special awards reception is slated for Thursday, April 4, at the Reuben H. Fleet Science Center. Executives will be honored in a number of categories, chosen by an independent panel of judges known for their expertise in the technology field.
Sponsorship support for this program is provided by ESET, AIS, Robert Half Technologies and SDA Security Systems.
Nominate or order tickets online at: http://www.regonline.com/2013itexecutiveoftheyear