Nominations Close Today for San Diego Business Journal's 'Top Real Estate Deals' Awards
Friday, January 11, 2013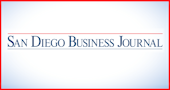 The San Diego Business Journal will close nominations for the first annual "Top Real Estate Deals" Awards on Jan. 11.
The inaugural program, which features a recognition event and special awards reception, is slated for Thursday, Feb. 21, at Paradise Point Resort and Spa. A special supplement also will feature winners and finalists in several categories as well as an overall "Best Deal of the Year" winner. This will be a singular opportunity for San Diego developers, real estate brokers, and property management companies to highlight their most impressive accomplishments of 2012.
Tickets are still available for the awards event. To nominate or order tickets online, visit http://www.regonline.com/2013toprealestatedealsoftheyearawards.