Northrop Stays Busy With High-Altitude Spy Plane Programs
Wednesday, January 9, 2013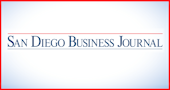 Northrop Grumman Corp. recently made two announcements related to its high-flying unmanned spy aircraft.
The Virginia-based defense contractor, which houses its unmanned systems development center in Rancho Bernardo, announced it had delivered two Global Hawks to the U.S. Air Force ahead of schedule. So far, Northrop has delivered 37 Global Hawks to the Air Force.
The jet-powered aircraft can stay in the air for 24 hours or longer, and carries specialized sensor packages.
Northrop said that in 2012, it delivered three new Global Hawks to the Air Force. In addition, it finished installing new sensors on five previously delivered aircraft, allowing them to gather multiple types of intelligence data during a single mission.
The continued deployment of Global Hawk unmanned aircraft reflects the continuing trend in all branches of the military to deploy unmanned aircraft in a wide range of missions, sometimes in place of missions formerly flown by manned aircraft.
Separately, Northrop announced that it was building a similar, company-owned unmanned aircraft to help it develop and demonstrate at-sea surveillance systems. The company-funded aircraft will be identical to the Triton aircraft built for the U.S. Navy.
The Triton aircraft is based on the Global Hawk. It has also been called BAMS, short for Broad Area Maritime Surveillance.
Northrop recently released photos of workers joining the company owned aircraft's wing sections to its fuselage at its factory in Palmdale.
"We've proven that company-owned systems allow us to reduce risk in testing efforts and deliver capabilities faster to our customers," said Steve Enewold, Northrop's vice president and program manager for Triton.
Triton should be operational in late 2015, Northrop said.
— SDBJ Staff Report